Meet the "Swiss Army Knife" of instruments! It has the depth and warmth of a serious viola, with the clarity and brilliance of a high quality violin. 
This instrument is the perfect choice for players that play both violin and viola, as you'll always have both in one instrument. It's the secret weapon for recording sessions to add layers of luscious string pads.
The Concert 5-String Viola comes set up from high to low as: E-A-D-G-C.
Available Sizes: (In the video, Michael is playing the 15.5")
Players with shorter arms/fingers should consider the 15-15.5" size, as these are only slightly bigger than the Fiddlerman 5-String Master Violin, but the larger sizes will offer an even deeper and more profound sound, but require more physical capability.
The outfit includes all the accessories you need to get started.
VIOLA FEATURES
Solid-carved, slightly flamed spruce and maple tonewoods
100% ebony fingerboard, pegs & fittings
Ebony tailpiece with 5 fine tuners
Hand-carved Despiau or Holstein bridge
European spruce soundpost from "Alpine Tone Wood"
Spirit-based durable dark brown finish (no thick lacquer)
Wood dried for a minimum of 6 years

Strings - whichever strings sound better on the specific viola (most commonly D'Addario Helicore)

Precisely measured string height for easy and comfortable playability
The viola will arrive ready to play out of the box!
FIDDLERMAN VIOLA BOW FEATURES
Strong, responsive, high-grade carbon fiber (far superior to Brazilwood and lower grade pernambuco)
Durable Siberian horse hair for a smooth, full tone
Nickel-mounted true ebony frog
Genuine mother-of-pearl inlays
INCLUDED ACCESSORIES
Case: Sturdy light weight high-quality oblong viola case. Case includes straps, music pocket, storage compartments, four or two bow holders.
Bow: Fiddlerman Carbon Fiber Viola Bow
Shoulder Rest: Fiddlerman Wood Viola Shoulder Rest (14" come with Fiddlerman Wood Violin Shoulder Rest)
Rosin: Fiddlerman Select Dark Rosin
Cloth: Fiddlershop Polishing Cloth
Tuner: Fiddlerman Digital Tuner AV10
THE FIDDLERSHOP FAMILY
Why is Fiddlershop growing so fast and revolutionizing the violin industry? We believe that music and instruments should be accessible to everyone at a price they can afford. Our founder Pierre Holstein (a.k.a. "Fiddlerman") works directly with makers in many different countries to produce only the best for our customers. With over 40 years as a professional violinist in orchestras around the world, he brings unmatched expertise in music and business to everything we do.
Every Fiddlerman violin is set up and tested in our workshop to make sure it passes our rigorous 10-point inspection. Our incredibly talented team is here to help answer any questions you have, and make sure your instrument arrives safely.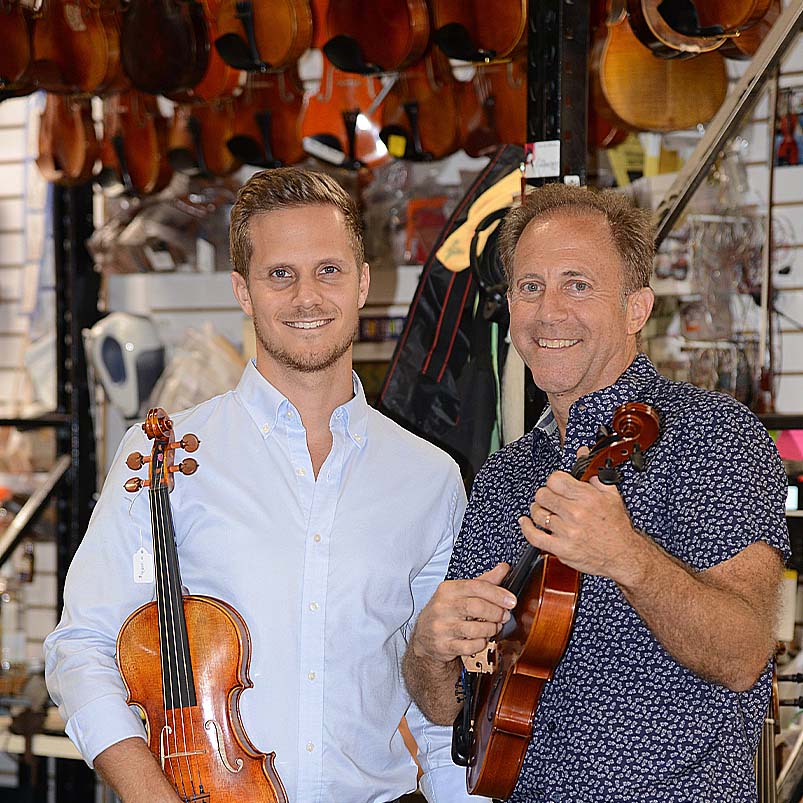 About Fiddlershop
Fiddlershop is a small family-owned business located in South Florida. Since 2012 we have been serving the string community with quality instruments and accessories. We believe that music and instruments should be accessible to everyone at a price they can afford.