Here at Fiddlershop, our passion is to provide incredible sounding, and affordable string instruments for passionate musicians. When my son and I started Fiddlershop in 2012, we knew we could offer a better online shopping experience by sharing our love for music and helping others on their musical journey.
In those early days, I was creating a lot videos for www.fiddlerman.com to help musicians learn how to play the violin for free. The questions that kept coming up from that community about where to buy an instrument, which instrument to buy, and similar questions gave us the insight and confidence to start a shop that would guide customers from complete beginners to professionals.
Since the start, we've stood behind every single product on Fiddlershop's website and strive to offer the lowest prices possible. We strongly believe in "showing your work" and so we demonstrate all our instruments, and will even play multiple instruments for customers to choose. Even though customers may be on the other side of the world, they can hear instruments played as if they were in the same room as us. This is a practice that is still to this day rarely seen, even among other well established shops.Equally important is Fiddlershop's satisfaction guarantee. We know there's no substitute for playing the instrument yourself, and in your home. That's why every item comes with our easy 45 day return window, and all orders over $35 ship for free. Buying instruments online is no longer risky. We package everything with care, and guarantee it will reach you safely.

The real difference of shopping at Fiddlershop compared to other online stores though, is our world-class luthiers that set up each instrument to ensure that they are easy to play and sound the best they can. One of our professional musicians tests each instrument before it ships, and works closely with the luthiers to make any adjustments in order to help it sound its best. We set up and test over 6,000 instruments a year, so we have the experience and expertise to know what to look for, and how to fix any issue. We also specialize in repairs, bow re-hairs, and major restorations.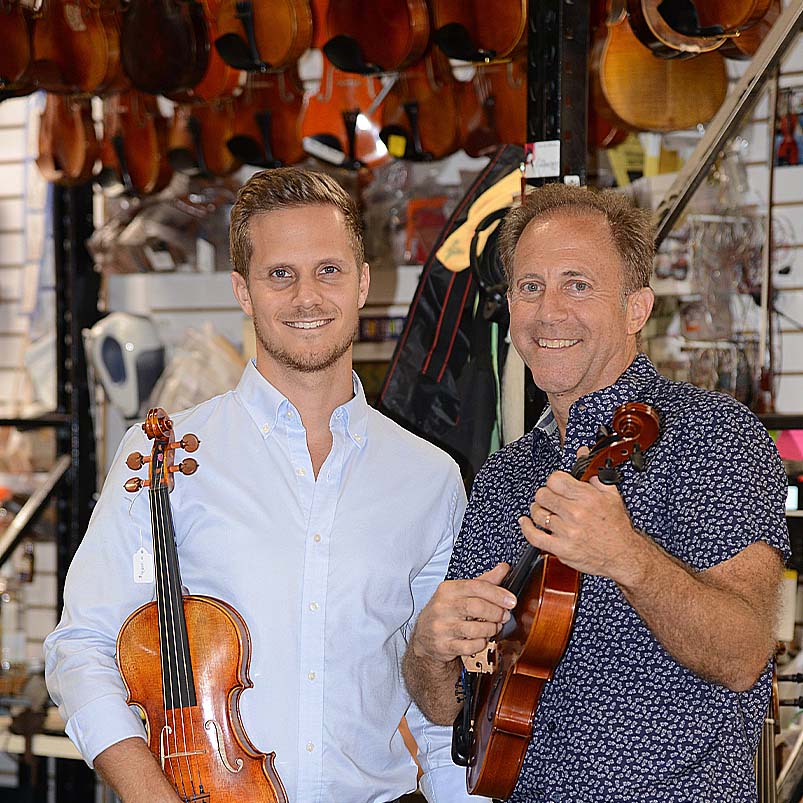 For all your string instrument needs, we're here to help if you have any questions. On behalf of all of us at the shop, we're proud to welcome you to the Fiddlershop Family.
~ Michael & Pierre Holstein,
Father & Son Founders