Made in one of our award-winning workshops, this Holstein violin is inspired by the original Guarneri 'Del Gesu' 'Lord Wilton' (Cremona c. 1742). This instrument is bench made, which means that it was made individually by one of our master luthiers from start to finish.
This 'Lord Wilton' has a spectacular one-piece back with deep, wide and remarkable flaming. The quality and dimensions of the wood (as well as the varnish) are copied from the original, to achieve the same tonal qualities.
Considered a masterpiece, the 1742 Lord Wilton (sometimes called the ex-Yehudi Menuhin) was named after Seymour Egerton, 4th Earl of Wilton, a musician, associate of Arthur Sullivan, and 19th century owner of the instrument. The Lord Wilton was constructed during del Gesu's later years. This instrument was later in the possession of the great violinist Yehudi Menuhin and would become his favorite violin to play in public. A letter from Menuhin in 1974 tells how he preferred the tone of his Guarneri over that of his Stradivari violin.
Structure: Top made of highest quality Italian spruce, and back of Bosnian maple
Varnish: Antiqued Italian oil varnish
Fittings: Boxwood
Bridge:

Hand-carved professional level

 Despiau 3-tree 

or Holstein 

Deluxe 

Bridge

Strings: Player's or Maker's choice. We select and match the strings carefully to bring the most out of each individual instrument. For any string preference, please contact us or add a comment to your order.
When you buy this violin, it comes with a quality oblong case.
Holstein instruments go through Fiddlershop's quality control and adjustment process. We take every measure to make each instruments sound its best. They are also covered by Fiddlershop's Lifetime Structural Warranty and include lifetime free adjustments.
Still not convinced?
You can request this violin on an In-Home-Trial, or request a personal video. If you can't decide between two models, we can record and send a comparison video for you to pick and choose. Chat with us, send us an email, or give us a call (800-595-0592) for a professional consultation.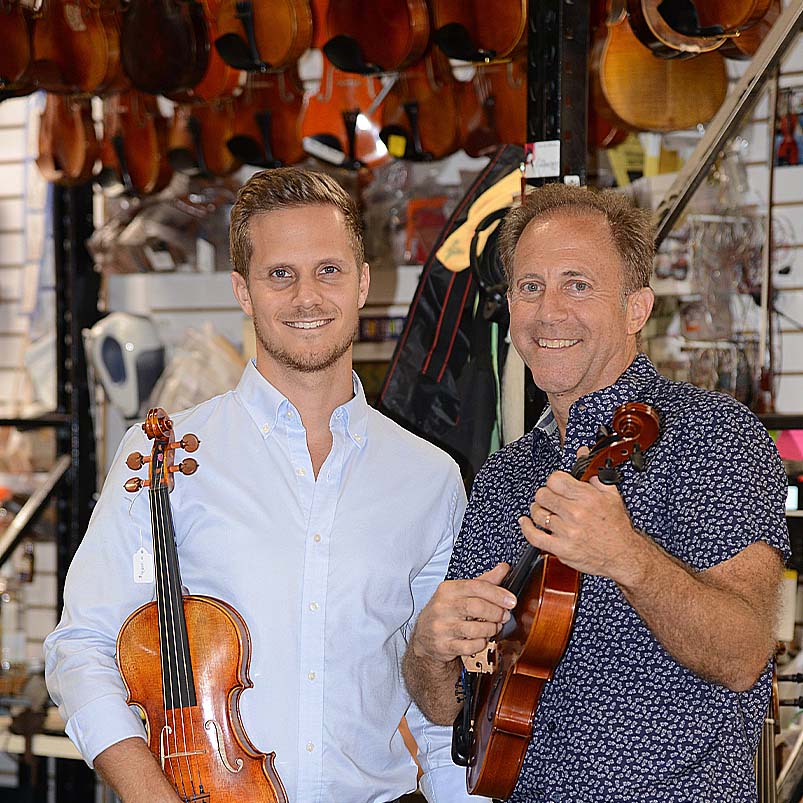 About Fiddlershop
Fiddlershop is a small family-owned business located in South Florida. Since 2012 we have been serving the string community with quality instruments and accessories. We believe that music and instruments should be accessible to everyone at a price they can afford.