We're delighted to feature this instrument from the American violin maker, Ryan Fini. Started in Albuquerque, NM, Fini relocated mid-process and completed the instrument in Boston MA. Once completed in 2016, Fini himself played the instrument for the last five years.
The instrument plays with a maturity far surpassing its young age, with a deep and mellow tone, with a gorgeous, brilliant upper register. The two-piece maple back is beautifully antiqued to replicate the varnish wear pattern of instruments hundreds of years old.
The fingerboard is shaped from the finest piece of ebony. 
The bridge is a hand-carved Despiau 3-Tree
The fittings are made out of high-quality ebony.
The strings are currently Thomastik PI (101)
Sale Includes a quality oblong case
This violin is sold with Fiddlershop's lifetime structural warranty and comes with lifetime free adjustments. 
About Ryan Fini
Ryan Fini is a professional violin maker who focuses on making violins, violas, and cellos of exceptional tone and uncompromising quality.
A violinist since childhood, Ryan has always had a strong passion for music. This eventually led him to study music in college, where he was introduced to the art of violin making. He soon became fascinated with the craft, and it became apparent that he had the skills and passion necessary for a career in instrument making.
After receiving his Bachelor's Degree, he was accepted into the distinguished violin-making program at the North Bennet Street School (NBSS) in Boston where he studied under violin maker Roman Barnas. Upon graduation from NBSS, Ryan received the "Award for Distinguished Craftsmanship" as well as the interdepartmental "DMT Award for Excellence in Craftsmanship".
After concluding his studies in Boston, Ryan began his professional career at David Brewer Fine Violins as a restorer and instrument technician, while continuing to make violins at his home workshop. Ryan spent these years among a comprehensive collection of fine antique instruments. This position afforded him many hours of careful study of instruments by the great Italian masters including Antonio Stradivari, Giuseppe Guarneri "del Gesu", G.B. Guadagnini, and Nicolo Amati. Such intensive study of the work of these craftsmen continues to inform and inspire Ryan's own violin making and in 2016, he struck out on his own to focus solely on making new violins, violas, and cellos in Albuquerque, New Mexico.
In 2019, Ryan moved his workshop to Baltimore to join Perrin and Associates Fine Violins. At the Perrin shop in Baltimore, he continues to focus on making fine violins, violas, and cellos of the highest quality while taking on the occasional repair project.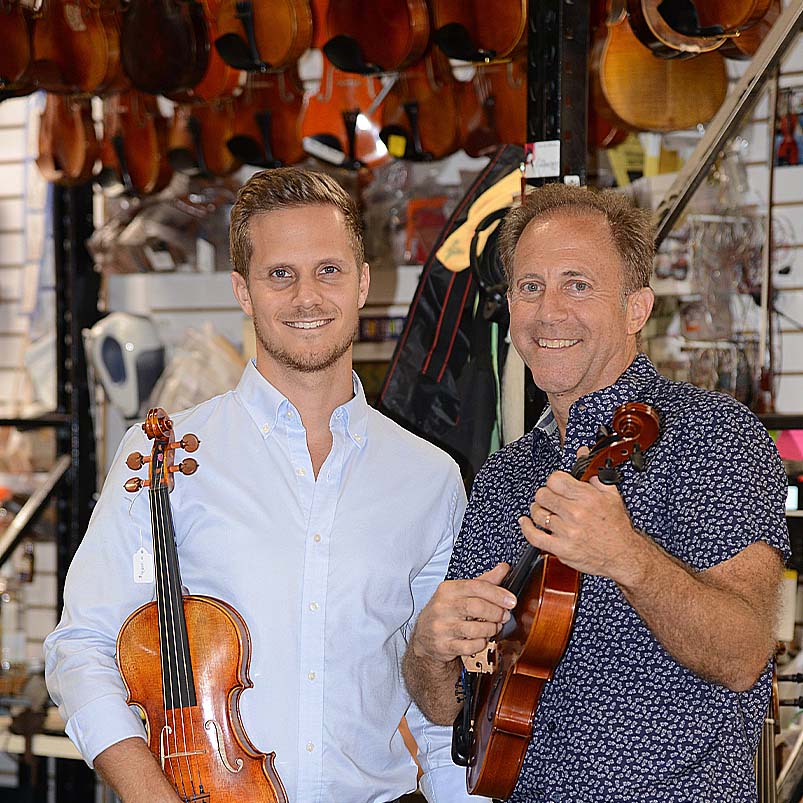 About Fiddlershop
Fiddlershop is a small family-owned business located in South Florida. Since 2012 we have been serving the string community with quality instruments and accessories. We believe that music and instruments should be accessible to everyone at a price they can afford.