Designed to meet the demands of studio, stage, and other challenging performance environments, the NXTa Active Viola frees the violist from the limitations of an amplified acoustic viola. Based on a comfortable 16" viola string scale, key features of this instrument include the Polar™ Pickup System with the new dual-mode signal output, patented precision tuning system, sleek, ergonomic design, and comparatively lightweight. Available with either a flame maple Sunburst or Satin Black finish, the NXTa features a maple body, the comfortable Custom Shoulder Rest, and an adjustable-height bridge. Most important, the NXTa Viola offers artists exceptional amplified and recorded performance quality, and extraordinary freedom of expression.
The Polar Pickup System is driven directly by the vibration of the strings, enabling it to produce a full spectrum of sound with power and clarity. A convenient switch beside the volume and tone controls allows selection between heightened Arco and Pizzicato pickup sensitivity, expanding the tonal palette even further, virtually free of wolf tones.
Dual Mode Output - The new dual-mode signal output electronics of the NXTa take the convenience, versatility, and performance capability of the NXT to another level.
Active Mode - Using the supplied charger, plug the NXT into any AC outlet for 60 seconds to power the capacitor-powered active circuit for up to 16 hours of performance time. The instrument can then be plugged straight into any low or high impedance device, no direct box necessary. Since there is no signal loss over the full frequency spectrum of the instrument, the fundamentals of every note remain clear and strong, even with extra-long cables.
Passive Mode - The NXTa can be played in this mode when using a direct box or an amplifier with high impedance input. (This mode provides performance capabilities identical to the original NXT.)
The Custom Shoulder Rest features a foam-padded malleable aluminum base, which the player can bend and mold to the surface of the chest and shoulder. A wide range of height and angle adjustments can be made while the instrument is in playing position.
The ergonomically contoured ebony chin rest is designed to work in tandem with the Custom Shoulder Rest for control, comfort, and security. The optional Adjustable Chin Rest is also available for players wanting a more extensive range of position adjustments for more customized fit and comfort. The NXTa also accepts NS Design's revolutionary Balanced Shoulder Rest, which "floats" the instrument in the desired playing position.
Features
Body Construction: Solid, straight grain maple, with maple face (Satin Black model) or flame maple face (Sunburst model) on the body.
Fingerboard: Hand-graduated, featuring asymmetric curvature specially designed for enhanced left-hand playing ease.
Bridge: Black-dyed maple, adjustable for preferred string height via screws accessed from the back.
Strings: NS Electric Strings by D'Addario™ are standard. Compatible with solid and stranded core viola strings. Synthetic core strings are not recommended.
Precision tuning hardware: NS Design patented tuning system. Fine tuners are mounted on the body behind the bridge for precise, stable tuning. Automatic string clamping allows for quick, easy string changes.
Bridge Pickup: The Polar directional piezo pickup system responds selectively to either vertical vibration  (for remarkably even and sustained plucked/pizzicato sound, like a mandolin), or lateral vibration (for dynamic bowing, and a percussive plucked sound).
Electronic Controls: Rotary volume control, with push-pull selection between Active and Passive output mode; Tone control (treble roll-off); Arco/Pizzicato toggle switch.
What's Included
NS Viola Case: Standard hardshell case with handle and shoulder strap includes separate compartments for shoulder rest, charger and accessories, a bow compartment, and an exterior zipper pouch.  Made with durable Cordura® fabric, 3.2 kg (7 lb) loaded weight.
Specifications
Length: 585 MM (23")
Width: 117 MM (4.6")
Thickness: 49 MM (1.92")
Weight: 650g
Scale Length: 366 MM (14.4")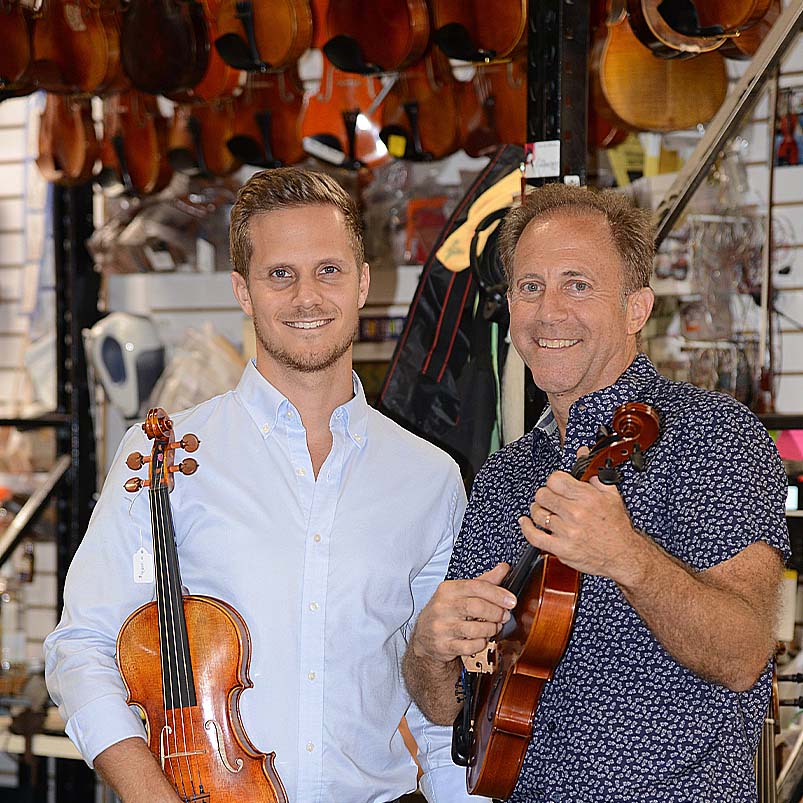 About Fiddlershop
Fiddlershop is a small family-owned business located in South Florida. Since 2012 we have been serving the string community with quality instruments and accessories. We believe that music and instruments should be accessible to everyone at a price they can afford.