Ns Design CR Electric Violin, available in both 4 and 5 string models, standard and fretted, is the preeminent electric violin on the market today. Designed by Ned Steinberger, the violin has a remarkable tonal range due to its innovative Polar™ Pickup System, which is able to selectively capture the string vibration favored for both bow and pizzicato technique with stunning brilliance and sensitivity. The violinist who prefers the elegant tone of a fine acoustic will not be disappointed, and for those who wish to explore new sonic territory, the sky is the limit.
The solid-body NS Electric Violin incorporates the familiar performance features of an acoustic instrument, including a removable bout segment to provide the left-hand reference position of a traditional instrument. Traditional string spacing and scale length facilitate the transition from the acoustic instrument to the world of the electric violin. Direct amplification and recording capabilities allow the violinist to experience the vast range of electronic and amplified performance opportunities, yet continue to savor the essence and timeless magic of the violin.
Construction: Straight grain quarter-sawn solid European maple body and neck, with a flame maple face.
Finish: Traditional amber stain with polymer top coat. Custom finish options are available for the CR Violin including Slate Gray, Quilted Maple, Poplar Burl and Zebrawood. Click here to see examples of these Custom CR Series finishes.
Body Reference Bout: Black-dyed maple bout on treble side provides standard violin reference. Easily removable for unrestricted neck access.
Fingerboard: Hand-graduated ebony.
Bridge: Black-dyed maple, height adjustable via screws on back of body.
Strings: NS Electric Strings by D'Addario™ are standard. Compatible with solid and stranded core violin strings. Synthetic core strings are not recommended.
Precision Tuning Hardware: Fine tuners are mounted on the body behind the bridge for precise, stable tuning. Automatic string clamping allows for quick, easy string changes.
Bridge Pickup: The Polar directional piezo pickup system responds selectively to either vertical vibration (for remarkably even and sustained plucked/pizzicato sound, like a mandolin), or lateral vibration (for dynamic bowing, and a percussive plucked sound).
Active Electronics: Dual mode preamp allows the player to choose between two distinct tone qualities: (1) the extended frequency response of modern low impedance electronics, for full-blown "electric" sound, and (2) active electronic shaping to replicate the frequency response of the traditional violin, for a more "acoustic" sound. A three-way toggle switch allows the player to select the desired pickup and electronics options.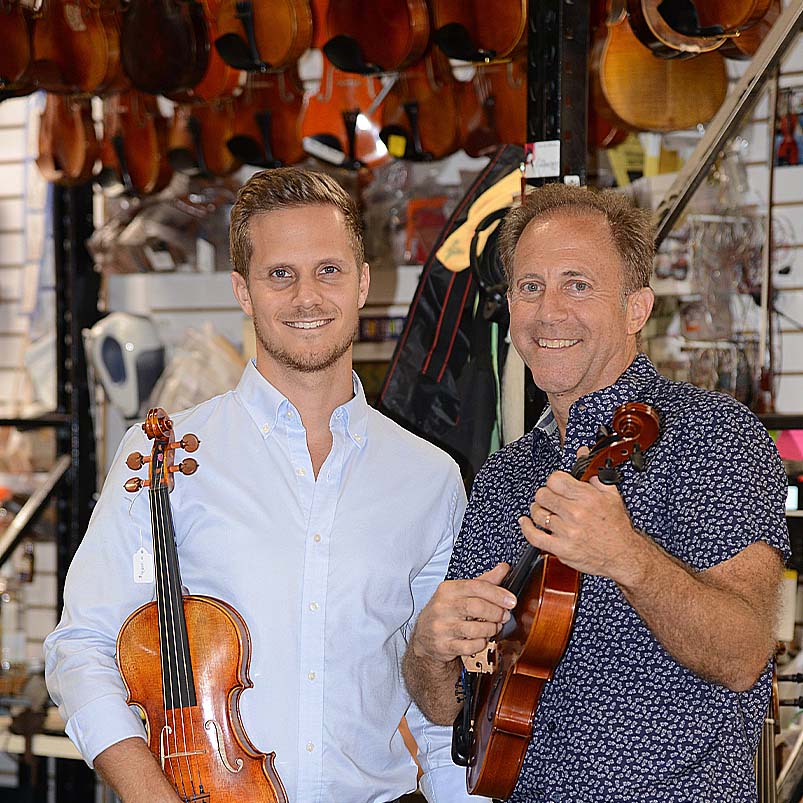 About Fiddlershop
Fiddlershop is a small family-owned business located in South Florida. Since 2012 we have been serving the string community with quality instruments and accessories. We believe that music and instruments should be accessible to everyone at a price they can afford.