The 4-string NS Viola completes the NS Design family of electric concert stringed instruments. With a remarkable tonal range due to its innovative Polar™ pickup system, the NS Viola is able to selectively capture the string vibration favored for both bow and pizzicato technique with stunning brilliance and sensitivity. Now the violist can shed the constraints of the acoustic instrument, and enjoy full, rich, powerful sound from an instrument that is very comfortable to play.
Features
SOLID MAPLE BODY AND NECK: The NS Viola is crafted of solid maple, with an elegant flame maple face. This lightweight solid-body design transfers the full spectrum of sound to the pickup without feedback, and is very stable even with changes in temperature and humidity. The ergonomic shoulder and chin rest provide comfortable, stable support, and a removable treble side bout is included for left hand position reference. The solid ebony fingerboard is hand graduated for consistent string articulation.
SUPPORT SYSTEMS: The CR Viola comes equipped with the Custom Shoulder Rest which can be formed by the player to fit the body perfectly. The ergonomically contoured ebony chinrest is designed to work in tandem with the Custom Shoulder Rest for control, comfort and security. The Adjustable Chin Rest is optional, offering a range of positions for individual fit, style and comfort, providing entirely new levels of ergonomic support. The viola can also attach to NS Design's revolutionary Balanced Shoulder Rest, which secures it effortlessly in optimal playing position.
BRIDGE PICKUP: The NS Viola features the Polar bridge-mounted piezo pickup system which responds selectively to either vertical vibration (for the sustained plucked sound, like a mandolin), or lateral vibration (for dynamic bowing, and a percussive plucked sound).
ACTIVE ELECTRONICS: The dual mode preamp allows the player to choose between two very distinct tone qualities. The first mode delivers the full frequency response of modern low impedance electronics, for a rich, full-blown "electric" sound. The second is balanced to produce the frequency response of the traditional viola, for a more "acoustic" sound. A three-way toggle switch allows the player to select the desired pickup and electronics options. Additional controls include volume and individual bass EQ & treble EQ controls.
PRECISION TUNING HARDWARE: With the NS Design patented tuning system, remarkably precise and stable tuning is accomplished entirely behind the bridge, in the manner similar to the fine tuners of an acoustic instrument. With the elimination of the traditional scroll and pegs, weight is shifted in towards the body of the player for optimum comfort. Although specially formulated NS Electric Viola Strings from D'Addario™ are recommended, any standard solid or stranded core viola string will fit the NS Viola. We do not recommend nylon (Perlon) core or gut core strings.
Specifications
LENGTH: 585 mm (23")
WIDTH: 116.8 mm (4.6")
THICKNESS: 51 mm (2")
WEIGHT: 775 grams
SCALE LENGTH: 366 mm (14.4")
STRING SPACING: Bridge 18 mm (0.7") Nut 38 mm (1.5")
CONSTRUCTION: Straight grain quarter-sawn solid European maple body and neck, with a flame maple face.
NS VIOLA CASE: Customized for the NS Violin, this standard hardshell case with handle and shoulder strap includes separate compartments for shoulder rest and accessories, a bow compartment and exterior zipper pouch.  Made with durable Cordura® fabric, 3.2 kg (7 lb) loaded weight.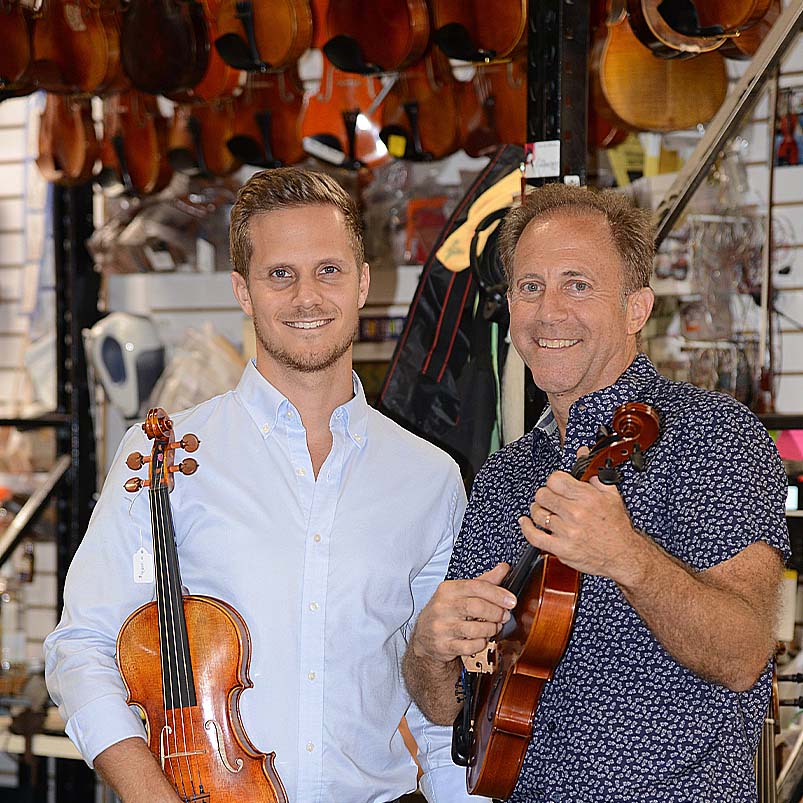 About Fiddlershop
Fiddlershop is a small family-owned business located in South Florida. Since 2012 we have been serving the string community with quality instruments and accessories. We believe that music and instruments should be accessible to everyone at a price they can afford.