The Holstein Workshop Cannone 1743 Violin is inspired by the "Il Cannone" violin made in 1743 by Guarneri Del Gesú. This violin is handmade by one master luthier, but varnished by another luthier. Instruments at this level are sourced from higher quality tonewoods compared to the Traditional level instruments.
The Holstein Workshop Cannone 1743 Violin is setup in our shop by our Master Luthier and undergoes our famous 10-point inspection before it's tested and shipped.
Known as "Il Cannone" (the Canon) for the powerful and sonorous quality of its tone, it was the favorite instrument of Nicolò Paganini. Crafted by the renowned Cremonese violin maker Giuseppe Guarneri (known as del Gesù), this instrument is considered one of his masterpieces. The violin has distinct features that set it apart from modern instruments, including a slightly shorter and thicker sound box, and a markedly curved neck. Its tone is distinctly bright, yet full. It's an excellent choice for all playing styles.
European spruce top and select maple back, sides, and scroll - dried 10+ years
Oil-varnished similarly to the 1735 Guarneri
Highest quality Ebony Fittings
Select quality Ebony fingerboard

Hand-carved professional level

 Despiau 3-tree 

or Holstein Deluxe

 

Bridge

Strings depends on what we think works best with the specific violin!
Every Holstein instrument undergoes our famous 10-point inspection!

Dimensions
Length of back: 35.4 cm
Upper bout: 16.8 cm
Middle bout: 11.1 cm
Lower bout: 20.7 cm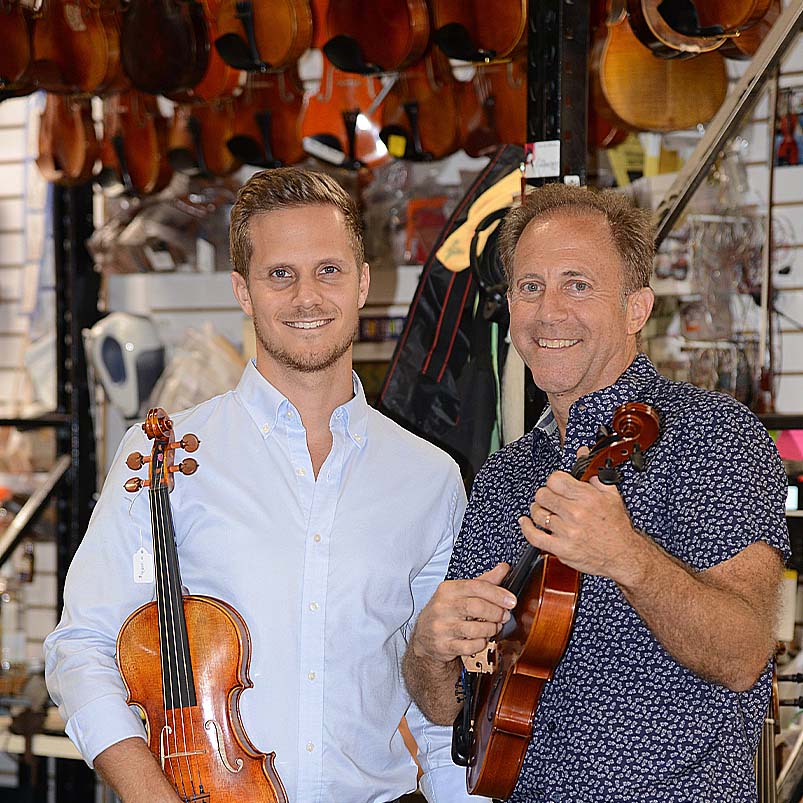 About Fiddlershop
Fiddlershop is a small family-owned business located in South Florida. Since 2012 we have been serving the string community with quality instruments and accessories. We believe that music and instruments should be accessible to everyone at a price they can afford.