The story behind every Holstein German Virtuoso violin begins with quality selected tonewoods from the best regions of Bavaria, Austria, Switzerland, and Bosnia.  We start with wood that is over 30 years old, and dried and seasoned for an additional 30 years. These violins are handcrafted with the greatest attention to detail in our German workshop, which has over 25 years of experience making fine instruments. 
The Virtuoso violin is handmade by one master luthier from start to finish and raises the standard for affordable, handmade European instruments. While many shops are content to use German-sounding trade names for instruments not even made in Europe, the Holstein Virtuoso, named for our Founder and Fiddlerman himself, Pierre Holstein, represents an exciting new era of bringing the highest quality instruments from northern Bavaria to our global customer base.
The term "Virtuoso" refers to a person who is highly skilled as a musician or other artistic pursuits. They are often seen as possessing either an outstanding natural talent or advanced technical ability through years of hard work and dedication. 
The Holstein German Virtuoso is an excellent choice for any style and ability. The tone of each instrument is unique and generally produces exceptional tonal characteristics from very deep and profound low registers and brilliant and clear upper register.  With the power to fill an entire hall, and sensitive for even the most intimate of gatherings, the violin nimbly responds to the desires of the performer.
Violin Specifications
Top: Two pieces of narrow grain spruce from Bavaria, Germany, aged for over 30 years.
Back: Two pieces of Bosnian maple of excellent quality, seasoned for over 30 years.
Varnish: Spirit-based orange-brown with minor antiquing.
Fittings: Ebony (Standard)
Strings: Thomastik Peter Infeld or Luthier's choice
The Setup
Holstein Custom violins are set-up with premium quality fittings and strings to bring the most out of the instrument. The Despiau Three Tree bridge is hand-carved and fitted by our luthiers during the setup process to perfectly match the unique conditions of each violin. 
The soundpost, or soul of the instrument is crafted and adjusted in our shop using the highest quality spruce, and meticulously adjusted and tested before shipping to help the violin perform with the most refined tonal color and complexity.
We are extremely proud to introduce the Holstein German Series of violins, which include:
Certificate of Authenticity

Each Holstein German Virtuoso violin is sold with a signed Holstein Violins certificate of authenticity.
What'included
Holstein German Maestro Violin
Certificate of Authenticity
Quality Oblong Case
Satisfaction Guarantee
With over 10 years of delivering fine instruments both within the United States and internationally, we strive for orders to be delivered as safely and quickly as possible. If you are not completely satisfied with your instrument purchase, you may return the violin within 45 days of delivery (unless otherwise specified) for a refund of the original purchase amount (shipping charges are not refundable). Lean more about our 
Shipping Procedures
 or 
Return Policy here
.
The Fiddlershop Family
Why is Fiddlershop growing so fast and revolutionizing the violin industry? We believe that music and instruments should be accessible to everyone at a price they can afford. Our founder Pierre Holstein (a.k.a. "Fiddlerman") works directly with makers in many different countries to produce only the best for our customers. With over 40 years as a professional violinist in orchestras around the world, he brings unmatched expertise in music and business to everything we do.
Every Holstein German violin is set up and tested in our workshop to make sure it passes our rigorous 10-point inspection. Our incredibly talented team is here to help answer any questions you have, and make sure your instrument arrives safely.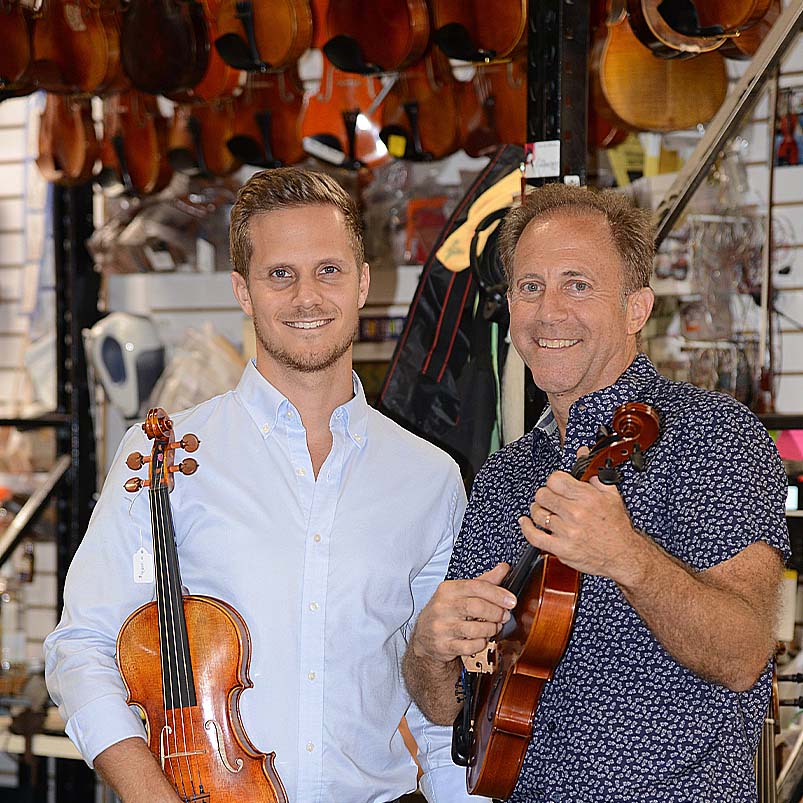 About Fiddlershop
Fiddlershop is a small family-owned business located in South Florida. Since 2012 we have been serving the string community with quality instruments and accessories. We believe that music and instruments should be accessible to everyone at a price they can afford.