The Fiddlerman Left Handed Concert Violin was designed from the ground up for violinists overcoming injuries, lack of mobility and dexterity in their left hand, or for those who choose to play the violin in opposite hands or "southpaw" as it is occasionally called.
The violin is traditionally played on the left shoulder regardless of which hand is dominant, however Fiddlershop is proud to offer this gorgeus and affordable option for players that need to hold the violin on the right shoulder, or for left-hand dominant players who simply find it more comfortable.
We believe this community of players has been vastly underserved, and it's been far too long since a high-quality and affordable instrument was made specifically for them. 
Up until now, those who needed a "Left Handed" violin had to go through the process of retro-fitting a traditional violin which is extremely cost prohibitive, and explains why you will almost never find another "left-handed" violin to try. The alterations to a traditional violin include moving the bass bar, cutting a new bridge, resetting the soundpost, moving the fine tuners, getting a custom made reversed chinrest, filling and re-drilling the peg holes. The Fiddlerman Left-Handed Concert violin was built with all these adjustments from the very start. 
Fiddlerman Left Handed Concert Violin
This left-handed violin, is based on the Fiddlerman Concert model. It is big, bold sounding, great "hand feel", precisely-functioning components and an inspiring look! Carefully selected aged tonewood with real ebony fittings and careful hand-varnishing brings out the natural beauty of the wood and the tone. Fine balance and powerful projection are enhanced by our own Fiddlerman Violin strings!
Solid hand-carved, beautifully figured spruce and maple tone woods
100% ebony fingerboard, pegs & fittings
Carbon tailpiece with 4 fine tuners
Hand-carved Despiau 

or Holstein 1-star Bridge

European spruce soundpost from "Alpine Tone Wood"
Hand-rubbed, oil/spirit-based finish (no thick lacquer)
Antiqued wood - dried a minimum of 6 years
Installed Fiddlerman Violin Strings (similar to Thomastik Dominants)
Exceeds all Suzuki and MENC (Music Educators National Conference) standards
Precisely measured string height for easy and comfortable playability
The violin will arrive ready to play out of the box
Available in sizes: 1/4, 1/2, 3/4, 4/4  (Fractional sizes come with Prelude strings) 
Fiddlerman Violin Bow Features

Strong, responsive, high-grade carbon fiber (far superior to Brazilwood)
Durable Siberian horse hair for a smooth, full tone
Nickel-mounted true ebony frog
Genuine mother-of-pearl inlays
Included Accessories
Case: Sturdy light weight high-quality oblong violin case. Case includes straps, music pocket, storage compartments, four or two bow holders.
Bow: Fiddlerman Carbon Fiber Violin Bow
Shoulder Rest: Fiddlerman Wood Violin Shoulder Rest
Rosin: Fiddlerman Select Dark Rosin
Mute: Fiddlerman Rubber Practice Mute (not available for 1/2 and smaller sizes)
Cloth: Fiddlershop Polishing Cloth
Tuner: Fiddlerman Digital Tuner AV10
Caring for your violin will extend its lifespan. Wipe the rosin off the violin, fingerboard, and strings with a soft, dry cloth after each use.

Wood instruments are sensitive to temperature and humidity extremes. In dry climates and seasons, we recommend getting a room or case humidifier. The ideal humidity is 40-60%. Below that, the glue and wood can become brittle resulting in open seams or cracks. Never leave your instrument in a car or outdoors.

Visit our resource library for more helpful tips on how to take care of your violin.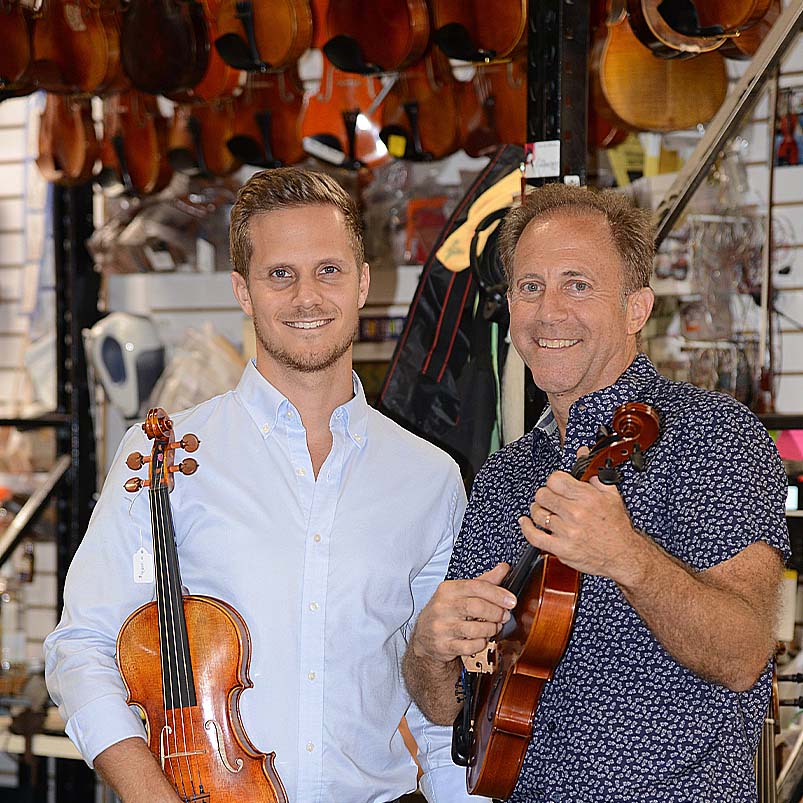 About Fiddlershop
Fiddlershop is a small family-owned business located in South Florida. Since 2012 we have been serving the string community with quality instruments and accessories. We believe that music and instruments should be accessible to everyone at a price they can afford.