What does B-stock mean?
Every now and then we receive an instrument from our workshop with a visual imperfection. The instrument might have a small nick, scratch or a discoloration in the varnish. These visual issues do not affect the performance or playability of the instrument. However, we would never put these instruments into our regular inventory.

Just like every other Tower Strings instrument we sell, this instrument is set up by our talented luthiers and is covered by our warranties.

We have a limited stock of these instruments. Every instrument has a different imperfection.
The "Entertainer" Violin Features
The Entertainer is our answer to a starter violin that anyone can afford! We have never been happy with what the market had to offer in this price range. The set up, accessories, and quality of build is far above anything we have tested in this price range! The violin will arrive ready to play out of the box. Now available in fractional sizes. Check our violin size guide for proper sizing.
Solid-carved spruce and maple tonewoods
Durable amber brown finish (no thick lacquer)
Wood dried a minimum of 24 months
100% ebony fingerboard, pegs & fittings
Carbon composite tailpiece with built-in fine tuners
Hand-carved Asian wood bridge
Well-rounded bridge - easy and comfortable playability
Strings - Prelude or other quality steel core string set

Outfit and Accessories
We went one step further and provided quality accessories that you won't have to replace right after purchasing this outfit (like with most other brands). Products that alone retail for over $100.
Violin Case: Sturdy lightweight shaped violin case. Includes carrying straps, music pocket, small storage compartment, two bow holders.
Violin Bow: Brazilwood bow
Rosin: Tower Strings rosin
Shoulder rest
Ultra Practice Mute
Polishing cloth
Digital tuner
The Fiddlershop Family
Why is Fiddlershop growing so fast and blowing away its competitors?
Fiddlerman himself tests and curates the violins and works directly with the maker to produce only the best. With over 40 years as a professional violinist of orchestras around the world, he knows what he's doing.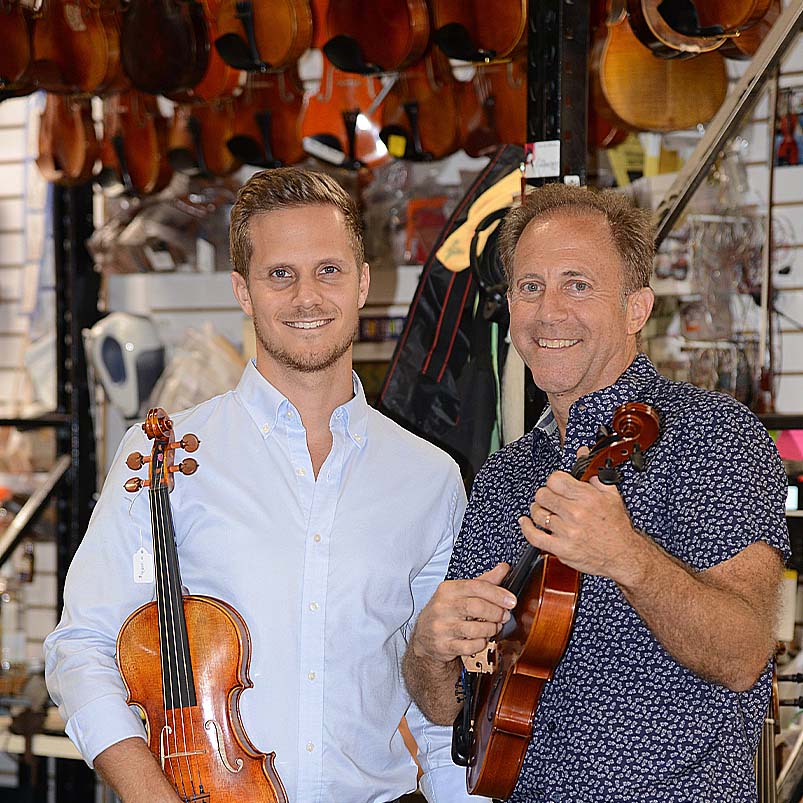 About Fiddlershop
Fiddlershop is a small family-owned business located in South Florida. Since 2012 we have been serving the string community with quality instruments and accessories. We believe that music and instruments should be accessible to everyone at a price they can afford.