What does B-stock mean?
Every now and then we receive an instrument from our workshop with a visual imperfection. The instrument might have a small nick, scratch, or a discoloration in the varnish. These visual issues do not affect the performance or playability of the instrument. However, we would never put these instruments into our regular inventory.
Just like every other Fiddlerman instrument we sell, this instrument is set up to perfection by our talented luthiers and is covered by our lifetime structural warranty.
We have a limited stock of these instruments. Every instrument has a different imperfection.
Fiddlerman Soloist Viola Specifications
Fiddlershop tests these violas thoroughly before shipping out. The Soloist viola is now made in an exclusive Holstein workshop! After trying hundreds of models, Fiddlerman settled on this one as his dollar-for-dollar favorite advanced level viola.
Body: Fully hand-carved with spruce top and flamed curly-maple back, dried a minimum of 12 years. Professional quality hand-applied spirit varnish
Fittings: Ebony fingerboard, pegs, chinrest, and tailpiece.
Bridge: Professional level hand-carved Despiau Three Tree
Soundpost: European Spruce Soundpost from "Alpine Tone Wood"

Strings: Luthier's choice to best fit the instrument, typically Thomastik Vision or Dominant.

Included Accessories
Case: Fiddlerman Quality Oblong Viola Case FC75 with Dark Gray Interior.
Bow: Fiddlerman Carbon Fiber Viola Bow
Shoulder Rest: Fiddlerman Wood Viola Shoulder Rest (14" come with Fiddlerman Wood Violin Shoulder Rest)
Rosin: Holstein Premium Rosin
Cloth: Fiddlershop Polishing Cloth
Tuner: Fiddlerman Digital Tuner AV10
The Fiddlershop Family
Why is Fiddlershop growing so fast and blowing away its competitors?
Fiddlerman himself tests and curates the violins and violas and works directly with the maker to produce only the best. With over 40 years as a professional violinist of orchestras around the world, he knows what he's doing. Each Fiddlerman viola is set up in our workshop.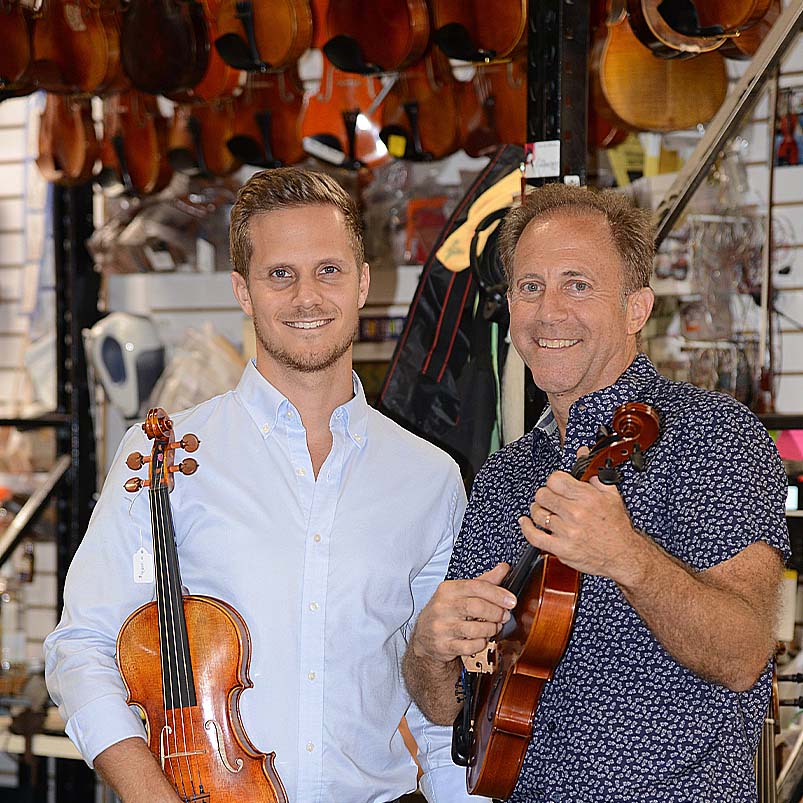 About Fiddlershop
Fiddlershop is a small family-owned business located in South Florida. Since 2012 we have been serving the string community with quality instruments and accessories. We believe that music and instruments should be accessible to everyone at a price they can afford.