What does B-stock mean?
Every now and then we receive an instrument from our workshop with a visual imperfection. The instrument might have a small nick, scratch or a discoloration in the varnish. These visual issues do not affect the performance or playability of the instrument. However, we would never put these instruments into our regular inventory.
Just like every other Fiddlerman instrument we sell, this instrument is set up to perfection by our talented luthiers and is covered by our lifetime structural warranty.
We have a limited stock of these instruments. Every instrument has a different imperfection.
Fiddlerman Left Handed Concert Violin Outfit
The Fiddlerman Left Handed Concert Violin was designed from the ground up for violinists overcoming injuries, lack of mobility and dexterity in their left hand, or for those who choose to play the violin in opposite hands or "southpaw" as it is occasionally called.
The violin is traditionally played on the left shoulder regardless of which hand is dominant, however Fiddlershop is proud to offer this gorgeus and affordable option for players that need to hold the violin on the right shoulder, or for left-hand dominant players who simply find it more comfortable.
We believe this community of players has been vastly underserved, and it's been far too long since a high-quality and affordable instrument was made specifically for them. The Fiddlerman Left-Handed violin was built with all these adjustments from the very start. 
Up until now, those who needed a "Left Handed" violin had to go through the process of retro-fitting a traditional violin which is extremely cost prohibitive, and explains why you will almost never find another "left-handed" violin to try. The alterations to a traditional violin include moving the bass bar, cutting a new bridge, resetting the soundpost, moving the fine tuners, getting a custom made reversed chinrest, filling and re-drilling the peg holes.
Fiddlerman Left Handed Concert Violin
This left-handed violin, is based on the Fiddlerman Concert model. It is big, bold sounding, great "hand feel", precisely-functioning components and an inspiring look! Carefully selected aged tonewood with real ebony fittings and careful hand-varnishing brings out the natural beauty of the wood and the tone. Fine balance and powerful projection are enhanced by our own Fiddlerman Violin strings!
Solid hand-carved, beautifully figured spruce and maple tone woods
100% ebony fingerboard, pegs & fittings
Carbon tailpiece with 4 fine tuners
Hand-carved Despiau

or Holstein 1-star Bridge

European spruce soundpost from "Alpine Tone Wood"
Hand-rubbed, oil/spirit-based finish (no thick lacquer)
Antiqued wood - dried a minimum of 6 years
Installed Fiddlerman Violin Strings (similar to Thomastik Dominants)
Exceeds all Suzuki and MENC (Music Educators National Conference) standards
Precisely measured string height for easy and comfortable playability
The violin will arrive ready to play out of the box
Available in sizes: 1/4, 1/2, 3/4, 4/4 (Fractional sizes come with Prelude strings)
Fiddlerman Violin Bow Features

Strong, responsive, high-grade carbon fiber (far superior to Brazilwood)
Durable Siberian horse hair for a smooth, full tone
Nickel-mounted true ebony frog
Genuine mother-of-pearl inlays
Included Accessories
Case: Sturdy light weight high-quality oblong violin case. Case includes straps, music pocket, storage compartments, four or two bow holders.
Bow: Fiddlerman Carbon Fiber Violin Bow
Shoulder Rest: Fiddlerman Wood Violin Shoulder Rest
Rosin: Fiddlerman Select Dark Rosin
Mute: Fiddlerman Rubber Practice Mute (not available for 1/2 and smaller sizes)
Cloth: Fiddlershop Polishing Cloth
Tuner: Fiddlerman Digital Tuner AV10
The Fiddlershop Family

Why is Fiddlershop growing so fast and revolutionizing the string instrument industry? We believe that music and instruments should be accessible to everyone at a price they can afford. Our founder Pierre Holstein (a.k.a. "Fiddlerman") works directly with makers in many different countries to produce only the best for our customers. With over 40 years as a professional violinist in orchestras around the world, he brings unmatched expertise in music and business to everything we do.
Every Fiddlerman violin is set up and tested in our workshop to make sure it passes our rigorous 10-point inspection. Our incredibly talented team is here to help answer any questions you have, and make sure your instrument arrives safely.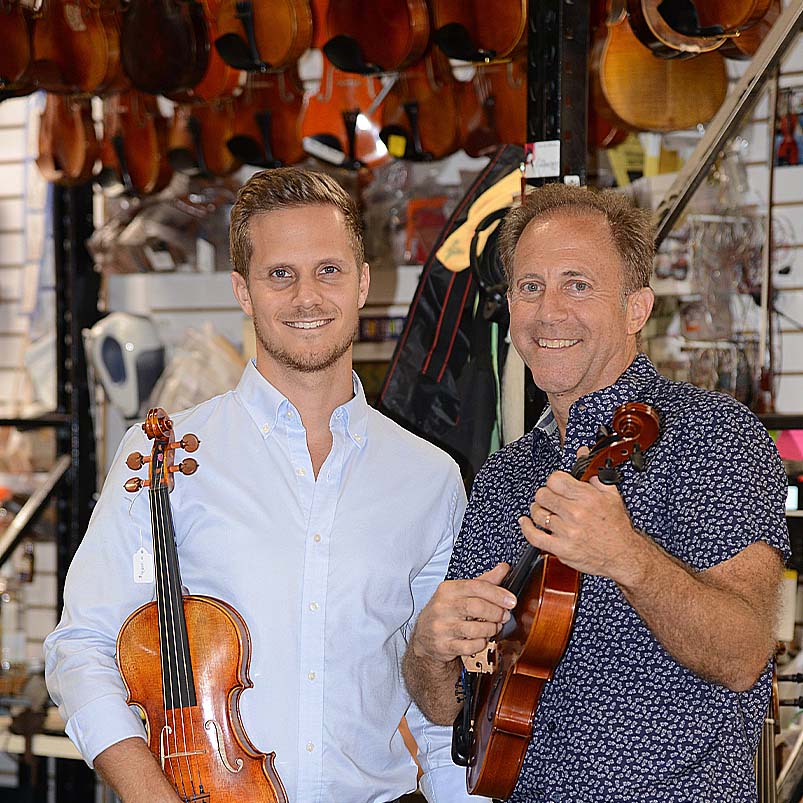 About Fiddlershop
Fiddlershop is a small family-owned business located in South Florida. Since 2012 we have been serving the string community with quality instruments and accessories. We believe that music and instruments should be accessible to everyone at a price they can afford.