The "Rockstar" Violin Features
When most violins at this price are simply unimpressive, this violin is an absolute Rockstar! This violin is our answer to a starter violin that means business, if your business is cranking out face-melting fiddle solos!
The set up, accessories, and quality of build is far superior to anything we've tested in this price range! The violin will arrive ready to play out of the box (some tuning still required). So wether you are taking the show on the road, or simply practicing up for the big gig, the Rockstar violin makes you feel like a star.


Great for players of all ages in any genre!

Full size
Solid-carved spruce and lightly flamed maple tonewoods
Durable golden brown finish (no thick lacquer)
Wood dried a minimum of 36 months
100% ebony fingerboard, pegs & fittings
Carbon composite tailpiece with built-in fine tuners
Hand-carved Asian wood bridge
Well-rounded bridge - easy and comfortable playability
Strings - Prelude or other quality steel core string set
Outfit and Accessories
We went one step further and provided quality accessories that you won't have to replace right after purchasing this outfit (like with most other brands). These accessories alone usually retail for over $100:
Sturdy lightweight shaped violin case
Case includes carrying straps, music pocket, small storage compartment, two bow holders
Brazilwood bow
Tower Strings Rosin
Violin shoulder rest
Ultra Practice Mute
Polishing cloth
Digital tuner
The Fiddlershop Family
Why is Fiddlershop growing so fast and revolutionizing the string instrument industry? We believe that music and instruments should be accessible to everyone at a price they can afford. Our founder Pierre Holstein (a.k.a. "Fiddlerman") works directly with makers in many different countries to produce only the best for our customers. With over 40 years as a professional violinist in orchestras around the world, he brings unmatched expertise in music and business to everything we do.
Every Tower Strings violin is set up and tested in our workshop to make sure it passes our rigorous 10-point inspection. Our incredibly talented team is here to help answer any questions you have, and make sure your instrument arrives safely. 
Caring for your violin will extend its lifespan. Wipe the rosin off the violin, fingerboard, and strings with a soft, dry cloth after each use.

Wood instruments are sensitive to temperature and humidity extremes. In dry climates and seasons, we recommend getting a room or case humidifier. The ideal humidity is 40-60%. Below that, the glue and wood can become brittle resulting in open seams or cracks. Never leave your instrument in a car or outdoors.

Visit our resource library for more helpful tips on how to take care of your violin.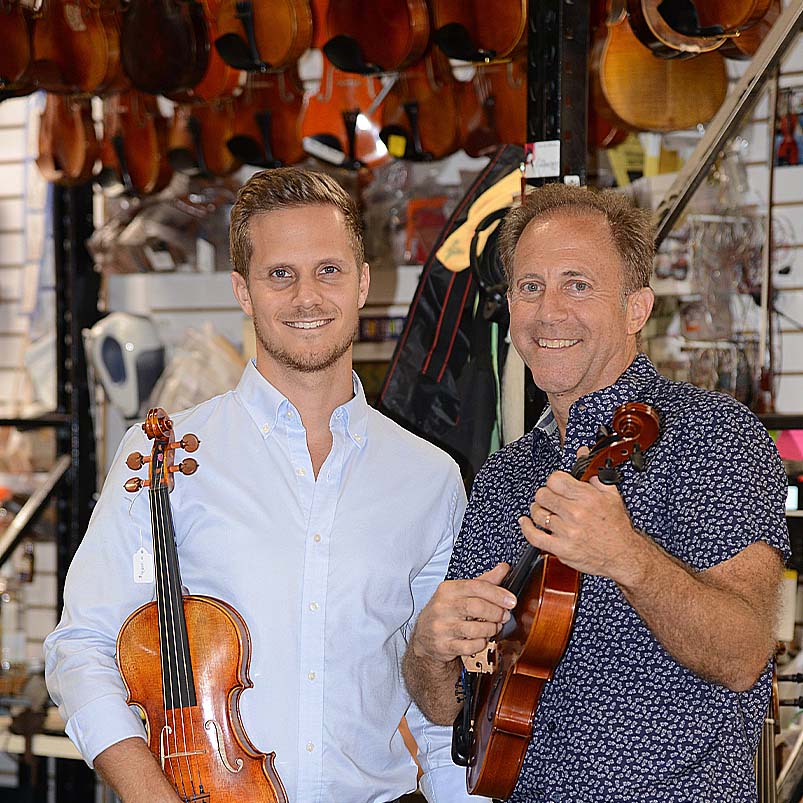 About Fiddlershop
Fiddlershop is a small family-owned business located in South Florida. Since 2012 we have been serving the string community with quality instruments and accessories. We believe that music and instruments should be accessible to everyone at a price they can afford.