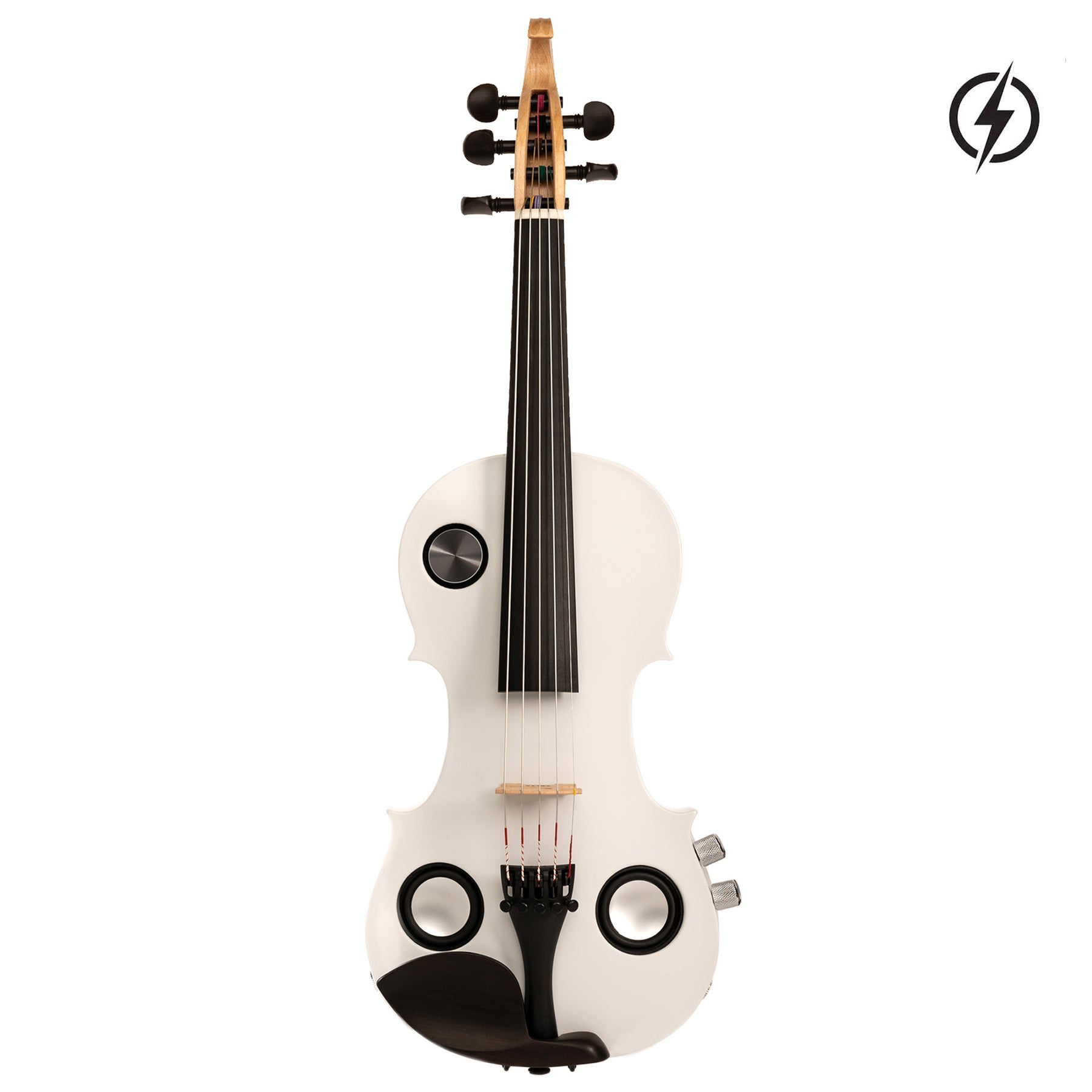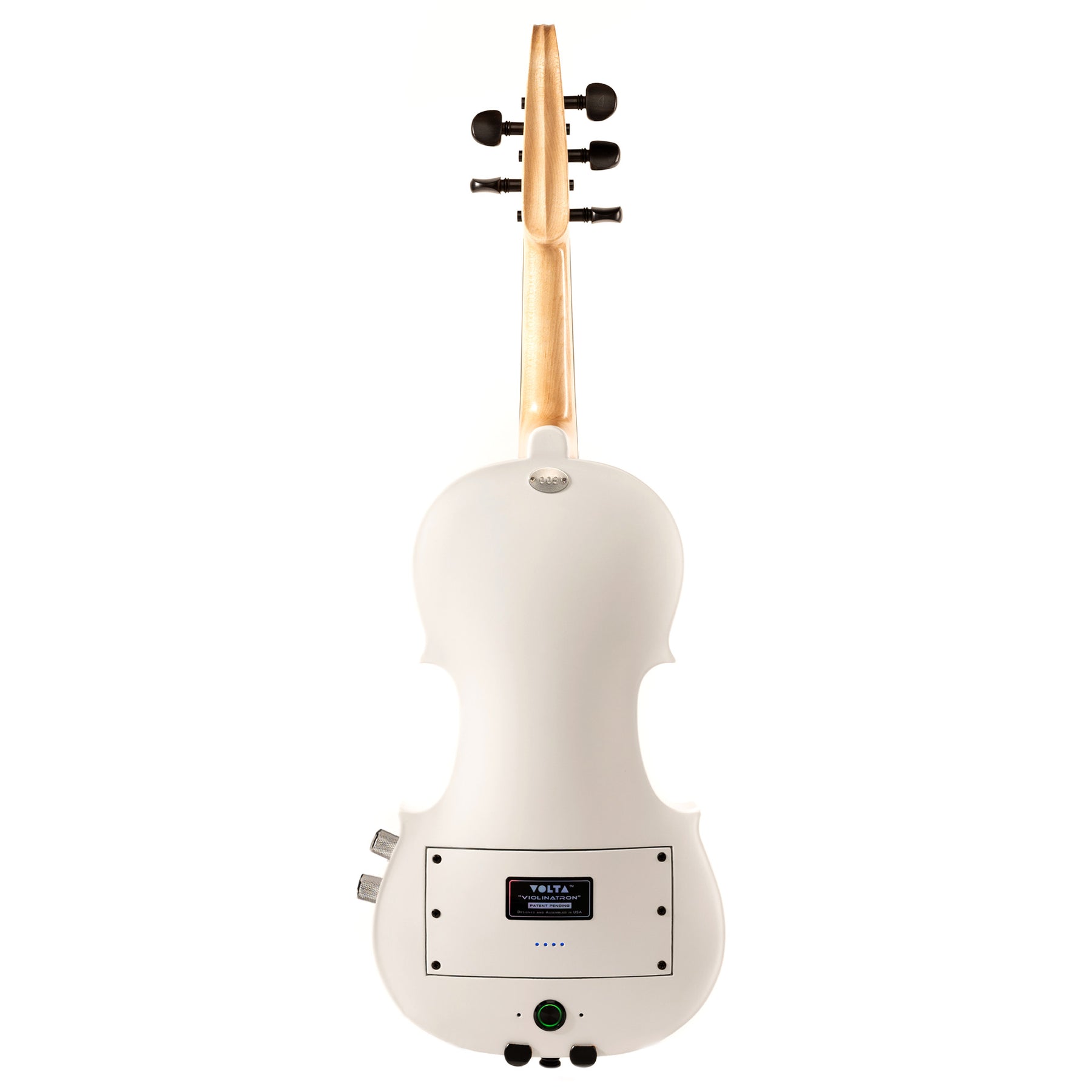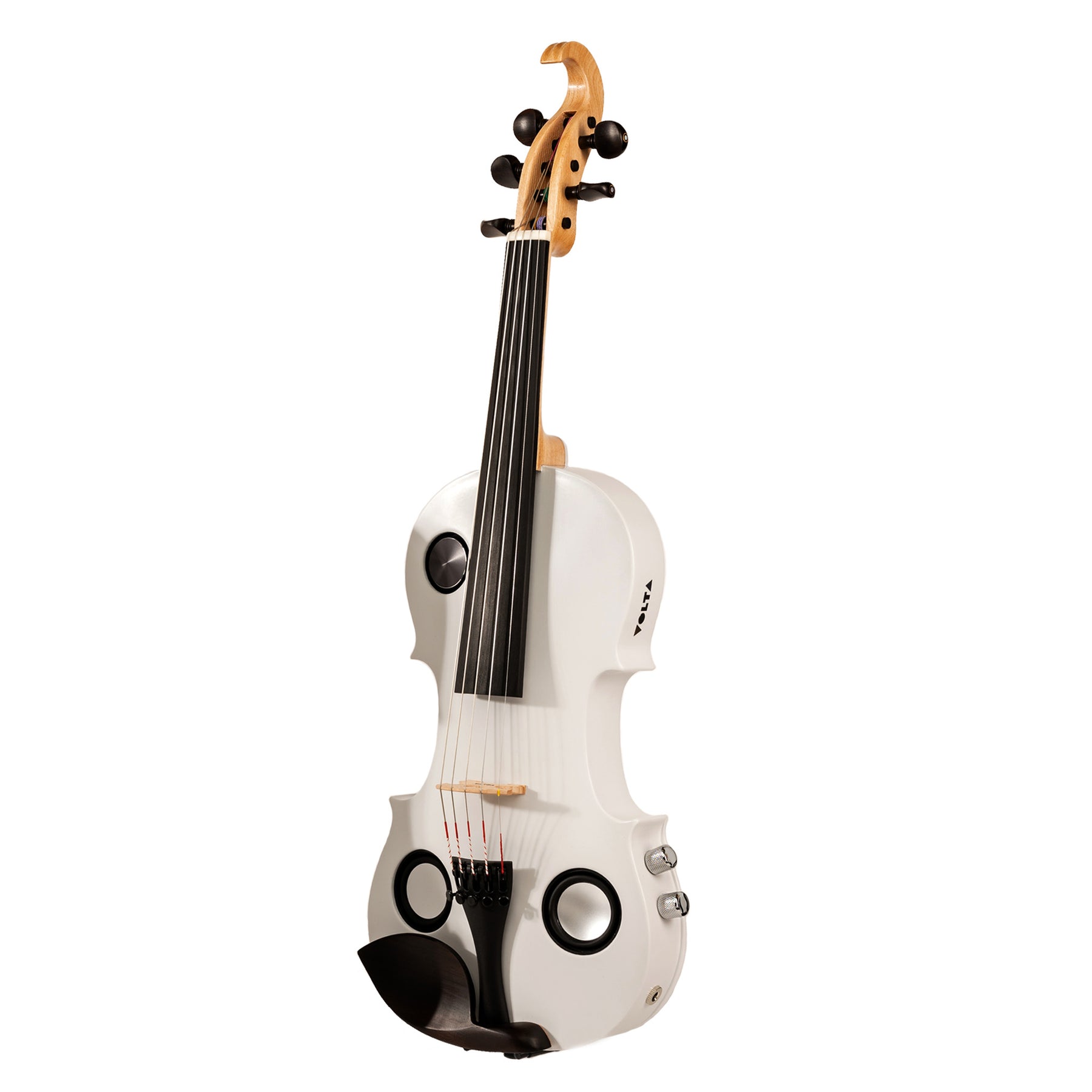 Volta Violinatron V5 Hybrid 5-string Electric Violin
Hybrid Violin with Powered Speakers
The first hybrid electric violin with built-in rechargeable battery, amplifier, speakers and reverb.
The Volta Violinatron is the first of its kind, a hybrid electric violin with a built-in rechargeable battery, amplifier, speakers, and reverb. This violin offers both an unplugged and amplified experience unlike anything else on the market.
The Violinatron shines at solo performances, especially in poor acoustical settings where an acoustic instrument would struggle. When playing in these locations such as outdoors, a busy street corner, the park, or a noisy restaurant, you can enjoy a gorgeous reverb and project slightly more than an acoustic violin, while completely free from cables or the need for an external amplifier. It's the perfect strolling or busking instrument.
When you're ready for the bigger stages, simply plug the Violinatron into an amplifier as you would with any other electric violin using the 1/4" built in jack. The built in speakers act as a monitor for you to hear what you're playing just like you're accustomed to. Switch from the active pickup mode which captures more of the sound from the body of the instrument, to passive to capture purely the bridge pickup (and play even if the battery is dead) without the speakers on.
Thirdly, Violinatron allows you to practice almost silently with the speakers off which is comparable to using a metal practice mute with an acoustic violin. Or perform at half the volume for intimate engagements without sacrificing tone or artistic energy.
The Violinatron is the first violin that facilitates these three playing experiences with one instrument.
Violin Specifications
Size: 4/4 (fractional sizes may be custom ordered)
Model: V5 5-String
Color: White (Custom colors can be special ordered)
Body: Spruce and Maple Wood
Fingerboard: Ebony with Bone nut
Pegs & Fittings: Ebony
Tailpiece: Composite with built-in fine tuners
Strings: Pirastro Tonica
Electronic Controls
Pickup: In-body piezo pickup
Electronics: Amplifier, two full-range speakers, resonator, and reverb effect
Controls: Volume knob, Reverb knob, Passive/Active output switch
Battery: Built-in rechargeable battery: 2-4 hours charge delivers ~14 hours of playing with speakers on (infinite playing in passive mode when plugged in)
What's Included?
Violinatron V4 Hybrid Electric Violin
Volta Slim Fiberglass Case
USB Charging Cable
About Volta Violins
Violinatron was invented by Marat Gabdullin, a native of Russia, is currently the Associate Concertmaster of the Oklahoma City Philharmonic Orchestra, as well as a member of Lawton Philharmonic and Norman Philharmonic.  He holds his Doctoral Degree from University of Oklahoma and Master's Degree from Oklahoma City University.
Charging the battery: Use the provided cable to charge your Violinatron. Plug one end to the charging port and the other end to any USB charging source (cellphone charger, computer, power bank). Approximate charging time is 2-4 hours depending on charging source. (USB 5v 1A is recommended)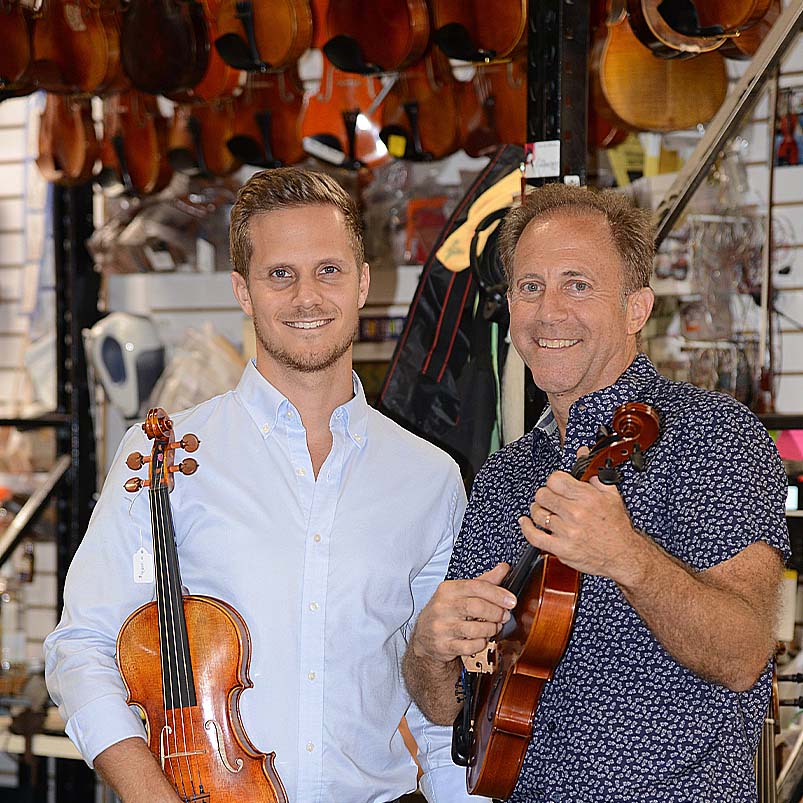 About Fiddlershop
Fiddlershop is a small family-owned business located in South Florida. Since 2012 we have been serving the string community with quality instruments and accessories. We believe that music and instruments should be accessible to everyone at a price they can afford.