Thomastik-Infeld RONDO® cello strings work on many different instruments but were particularly composed for soloists with modern instruments. Combining soloistic power with an expressive focus while playing equally providing a sonorous and deep sound, Rondo for cello stands for outstanding balance of warmth and brilliance. These strings offer abundant modulation in all registers. Even in the delicate pianissimo they reach and keep their full potential and projection. Rondo for cello impresses with being almost instantly playable and quickly perk up to their full sound potential. They respond immediately and inspire artists with great tuning stability as well as an exceptional long life span.
The Right Choice | Rondo or Rondo Experience
The Thomastik-Infeld RONDO® A string is offered in two different variations; "Standard' (RO41) and "Experience" (RO41XP).
If the instrument itself already has a high sound density or needs relief, we recommend RO41XP.
If the instrument needs more focus and contour, you need RO41
A-string RO41 is characterized by a continual sound density. The string delivers a particularly refined sound in pianissimo and a solid sound in forte – in clear contrast to "just loud". RO41 does not scream. Regardless of the instrument's character, the sound is always full and beautiful while still offering a good capacity for modulation.

The experience A-string (RO41XP) is a very vibrant string and offers an exceptional amount of sparkle and overtone richness compared to the regular RO41. It reacts even faster to bowing impulses from the right hand and at the same time produces a clear, distinct sound with minimum effort from the left hand.
The string has 700g less string tension, but it is exceptionally powerful and creates a very compact sound despite a broad range of tonal colors, unlike other softer strings. However, unlike the standard RO41, the sound density of the RO41XP is lower. Even though it feels softer (than the RO41), it offers a nice resistance. Compared to the RO41, the RO41XP is more sensitive to bow pressure and bowing speed, offering a higher capacity for modulation. Due to its forgiving character, the RO41XP maintains contact close to the bridge very reliably even when the bow pressure is insufficient.
Due to its even faster response (see RO41), the Thomastik-Infeld RONDO Experience® RO41XP allows impulsive interpretations and new playing experiences as a result.String Composition
A-String (RO41): Multialloy wound over carbon steel core (41.4 lb)
A-String (RO41XP): Multialloy wound over carbon steel core (39.9 lb)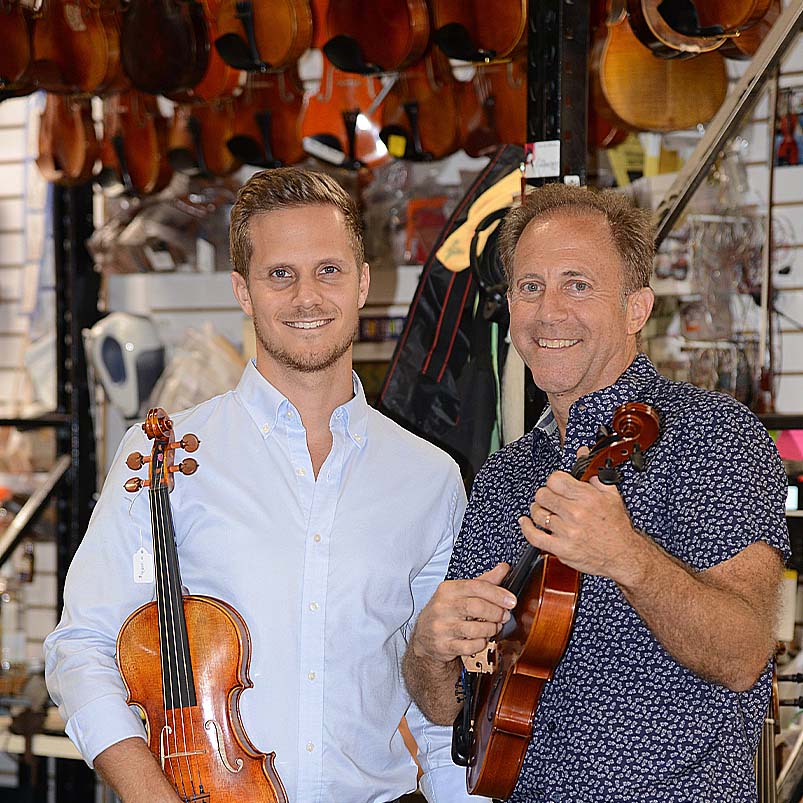 About Fiddlershop
Fiddlershop is a small family-owned business located in South Florida. Since 2012 we have been serving the string community with quality instruments and accessories. We believe that music and instruments should be accessible to everyone at a price they can afford.