Fiddlerman 5-string Violin Review
What does B-stock mean?
Every now and then we receive an instrument from our workshop with a visual imperfection. The instrument might have a small nick, scratch or a discoloration in the varnish. These visual issues do not affect the performance or playability of the instrument. However, we would never put these instruments into our regular inventory.
Just like every other Fiddlerman instrument we sell, this instrument is set up to perfection by our talented luthiers and is covered by our lifetime structural warranty.
We have a limited stock of these instruments. Every instrument has a different imperfection. Please find attached pictures for examples of these visual flaws.
Fiddlerman Master 5-string Violin Outfit
Add versatility without compromising on quality! The Fiddlerman 5-String violin opens the door of possibilities for improvising, teaching violin and viola lessons back to back, recording session stacking, or any gig where you don't want to bring BOTH a violin and a viola. You can now enjoy the low range of a viola with the comfort, playability and lightness of a violin.
This 5-string Master violin is made of quality woods that are aged a minimum of 10 years. This Guarneri-style 5-string violin projects a powerful, yet deep sound. You'll love the perfectly well-balanced, even tone throughout all five strings.

Pattern: Guarneri
Tonewoods: Aged spruce and maple, dried for over 10 years
Fingerboard: Ebony
Fittings: Quality Ebony Pegs and Composite Tailpiece
Strings: Thomastik Vision Strings or Maker's choice
Bridge: Hand-carved French Despiau or Holstein 3-star Bridge
Included Accessories
Case: Fiddlerman Oblong Violin Case FC50. Sturdy light weight high-quality oblong violin case. Case includes straps, music pocket, storage compartments, four or two bow holders.
Bow: Fiddlerman Carbon Fiber Violin Bow
Shoulder Rest: Fiddlerman Wood Violin Shoulder Rest
Rosin: Holstein Premium Rosin
Mute: Fiddlerman Rubber Practice Mute
Cloth: Fiddlershop Polishing Cloth
Tuner: Fiddlerman Digital Tuner AV10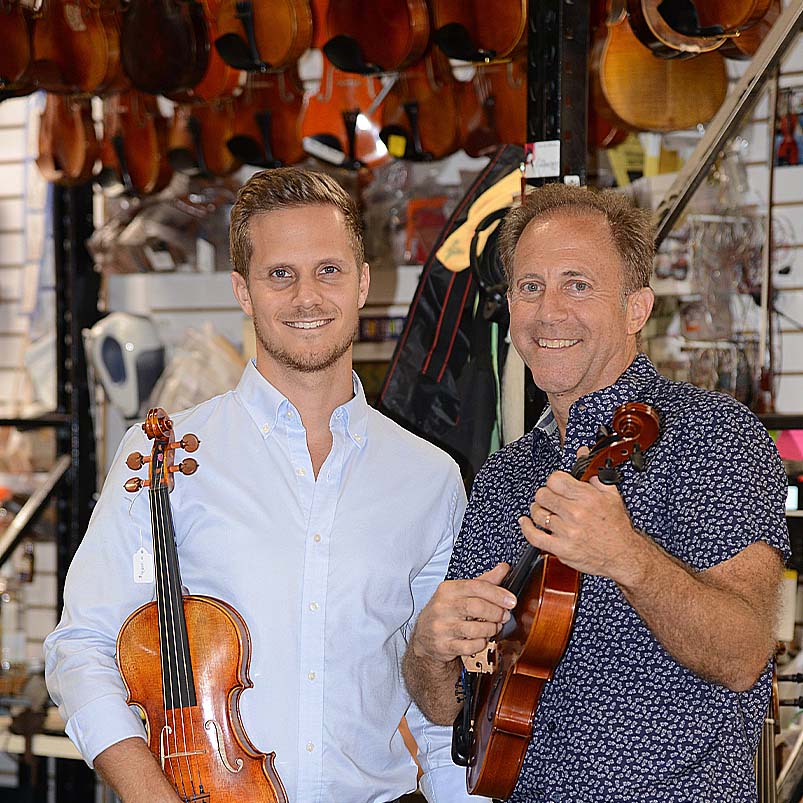 About Fiddlershop
Fiddlershop is a small family-owned business located in South Florida. Since 2012 we have been serving the string community with quality instruments and accessories. We believe that music and instruments should be accessible to everyone at a price they can afford.