The T-models are the most universal bows made by Arcus. They cover a huge spectrum of sound colors and playing styles. Violinists can expect great warmth and brilliance at the same time, which make them suitable for a majority of instruments. And while they significantly improve the sound of many under-performing instruments, their ideal range of overtones allow players to determine the perfect setup and best strings for their instrument more easily than with any other bow.
The weight of each bow is around 51 grams and sticks are only available in the round shape, (as opposed the the P, S, and M series which are also available in octagonal). Their balance is normal, but the mass is distributed towards both ends, giving the bow much more stability than you would expect in such a lightweight bow
In contrast with the solid sticks of wooden bows, the hollow, round shapes of Arcus sticks give them very attractive characteristics.  The round sticks have a very simple cross section, which gives them an even and steady feel. 

Bow length: 29.5 inches
Weight: 51-53 grams
--------------------------
Arcus T4 violin bow
The T4 is the ideal starting point into the world of Arcus bows. Its innovative stainless-steel outfit is made to shine for centuries, as is its beautiful sound. It offers the same perfect playing properties as its more expensive siblings

Assembly: Stainless steel
Frog: Snakewood
Weight: 50gr.
Arcus T5 violin bow
The look and feel of the T5 is one of great elegance. Its workmanship and sound is on the level of wooden bows that may cost several times as much. Still, it provides the superior comfort, durability, power and speed that only an Arcus bow can offer.

assembly: Silver 935
coil: Silver
Frog: Beautiful Snakewood
weight: 51 gr.
 --------------------------
Arcus T6 violin bow
The T6 is at the very heart of all Arcus bows. It shows what high technology combined with dedicated workmanship can achieve today. Perfect playing properties and a big and beautiful sound make these bows a perfect companion for every orchestra player and any repertoire.

assembly: silver 935
Frog: Beautiful Snakewood
weight: 53 gr.
--------------------------
Arcus T7 violin bow
Think of the best features of every bow you have ever played. Combine these and then add anything you might ever have wished for: This is the recipe for the T7. You will find yourself uniquely empowered in every concert situation and while practicing the most difficult pieces.

assembly: silver 935
Frog: Beautiful Snakewood
weight: 51 gr.
--------------------------
Arcus T8 violin bow
The T8 silver is on its way to become a true classic. It combines the revolutionary playability of the high end Arcus bows with an incredible sound and a noble sterling silver outfit.

assembly: Silver 935
frog: premium snakewood
weight: 51 gr.
--------------------------
Arcus T9 violin bow
The T9 delivers a truly amazing sound spectrum like from a different world. It plays absolutely effortless and is thus the ideal bow for soloists with a delicate old instrument, from which it can pull an incredibly powerful sound.

assembly: gold 585
frog: Selected snakewood
weight: 51 gr.
Because of the fantastic durability of their bows, Arcus offers a 30 warranty on the bow sticks. For the tip plate, the frog and the button they offer a 2 year warranty.
The hair, thumb leather, the winding, the screw and nut are excluded from warranty as they are subject to normal wear and tear. Any warranty claim must be initiated through Fiddlershop. Should that not be possible, please get in touch with the Arcus distributor in your country. Otherwise please contact 
Arcus directly to inform them of the damage and its circumstances. Arcus will then inform you about further procedures.
The warranty applies only under normal playing conditions. Should a bow be damaged under circumstances that are outside warranty limits, please get in touch with us anyway. We will try to offer you a repair or replacement at especially favorable conditions.
Any warranty expires when substantial changes are made to the bow, especially any attempt to change the curve of the stick, which is absolutely impossible. Any damage that is caused during unqualified work on rehairing the bow is also excluded. Please contact your Arcus-dealer, the distributor or Fiddlershop in any such case to find the best possible solution.
(All Arcus bows made in Austria before 2009, named Sonata, Sinfonia, Concerto, Cadenza, Allegro, Veloce or Vega, are covered by a 10 year warranty on the stick only.)
Winding Options
Gold 585 winding
Black whale bone with gold interlace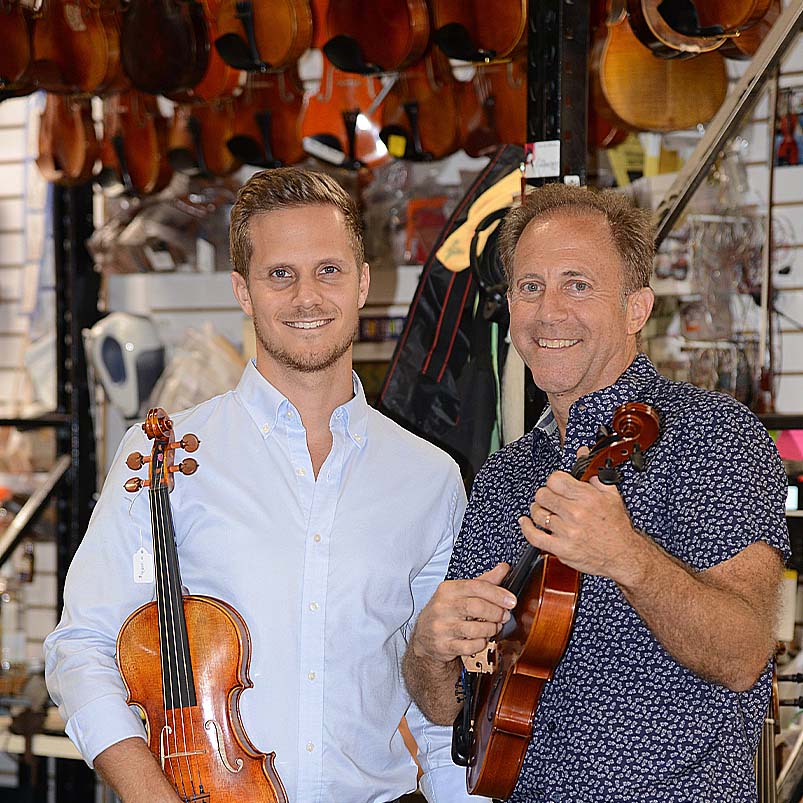 About Fiddlershop
Fiddlershop is a small family-owned business located in South Florida. Since 2012 we have been serving the string community with quality instruments and accessories. We believe that music and instruments should be accessible to everyone at a price they can afford.