Round  -This makes them play in a more agile and lively way. The round sticks have a very regular cross section, which gives them a very even and steady feel.
Bow length: 29.5 inches
Weight: 49-52 grams
-------------------------- 
Arcus M4 violin bow
The M4 is the ideal starting point into the world of Arcus bows. Its innovative stainless-steel outfit is made to shine for centuries, as is its beautiful sound. It offers the same perfect playing properties as its more expensive siblings.
assembly: stainless steel
eye: Pearl
coil: Silver / Black
weight: 51gr.
--------------------------
Arcus M5 violin bow
The look and feel of the M5 is one of great elegance. Its workmanship and sound is on the level of wooden bows that may cost several times as much. Still, it provides the superior comfort, durability, power and speed that only Arcus bows offer.
assembly: Silver 935
eye: Pearl
coil: Silver
weight: 51 gr.
--------------------------

Arcus M6 violin bow
The M6 is at the very heart of all Arcus bows. It shows what high technology combined with dedicated workmanship can acchive today. Perfect playing properties and a big and beautiful sound make these bows a perfect companion for every orchestra player and any repertoire.

assembly: silver 935
eye: pearl
coil: silver / black
weight: 51 gr.
--------------------------

Arcus M7 violin bow
Think of the best features of every bow you have ever played. Combine these and then ad anything you might ever have wished for: This is the recipy for the M7. You will find yourself uniquely empowered in every concert situation and while practicing the most difficult pieces.

assembly: silver 935
eye: pearl
coil: silver
weight: 53 gr.
--------------------------

Arcus M8 violin bow
The M8 will certainly surpass your highest expectations. It pulls a fantastic sound and plays with incredible subtlety. Its elegant play and perfectly clear sound lends a entirely new level of excitement to the playing the of the classic violin concerts.

assembly: gold 585
eye: pearl
coil: gold / black
weight: 51 gr.
--------------------------

Arcus M9 violin bow
The Arcus S9 is the ultimate bow for every soloist. Its brilliance and power reach far beyond any conventional bow and let the sound extend easily even over a large orchestra. But it also grips the stings without the least resistance, which makes it easy to modulate the most delicate passages to utmost perfection.

assembly: gold 585
eye: pearl
coil: gold
weight:51 gr.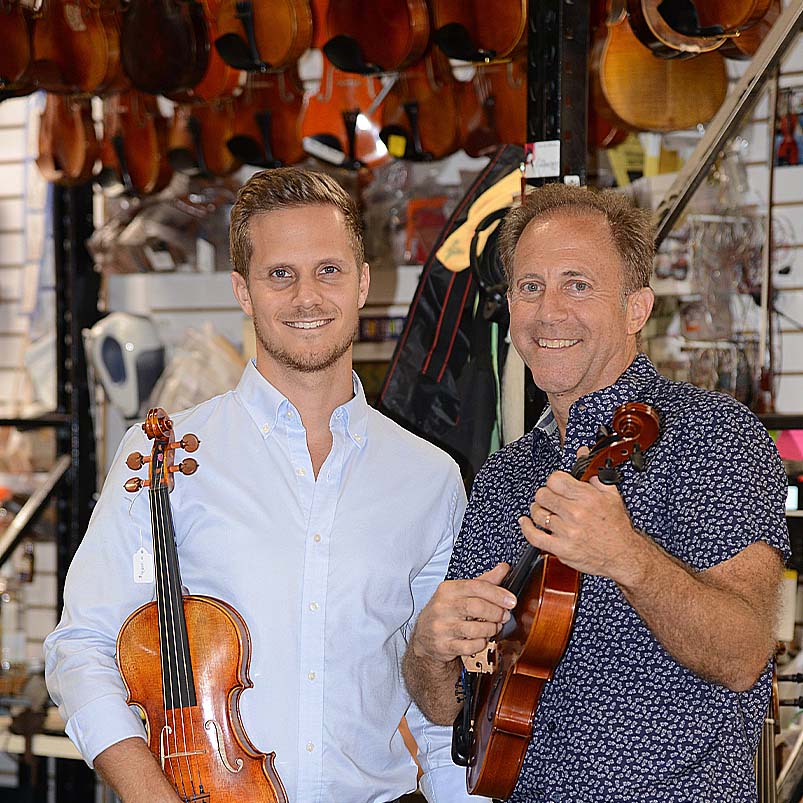 About Fiddlershop
Fiddlershop is a small family-owned business located in South Florida. Since 2012 we have been serving the string community with quality instruments and accessories. We believe that music and instruments should be accessible to everyone at a price they can afford.