Ming Jiang Zhu 909 Violin Review
Ming-Jiang Zhu Model 909 Violin. Also called Model AAA. This violin is made by the Senior Master Luthiers at the Ming Jiang Zhu workshop and comes with a certificate. It is set up and tested by our professional luthiers in our Florida workshop.
Fittings: Boxwood
Bridge: Professional level Despiau or Aubert bridge
Strings: Thomastik Peter Infeld (PI) Violin Set. The strings chosen might differ depending on the characteristics of each instrument. For any string preference, please add a comment to your order.
Body Pattern: The Ming Jiang Zhu 909 is available in the Guarneri pattern template.
Dimensions of 7/8: Body length approx. 344mm
Overall length approx. 570mm
About the maker
The maker, Ming Jiang Zhu, is a "VSA" (Violin Society of America) gold medal winner! He has won the greatest number and highest level of awards in that highly prestigious international competition. He has become one of the most frequently awarded violinmakers in the world. Fiddlershop is proud to sell these fine instruments which would surely cost many times more if they came from any European country. This instrument is as beautiful to look at, as it is easy to play. It has all the wonderful qualities of a fine professional instrument and reminds us of the sound from fine Italian old violins.
At Fiddlershop we will personally go through these violins thoroughly and test/tune/adjust them before shipping. The violin will arrive ready to play out of the box.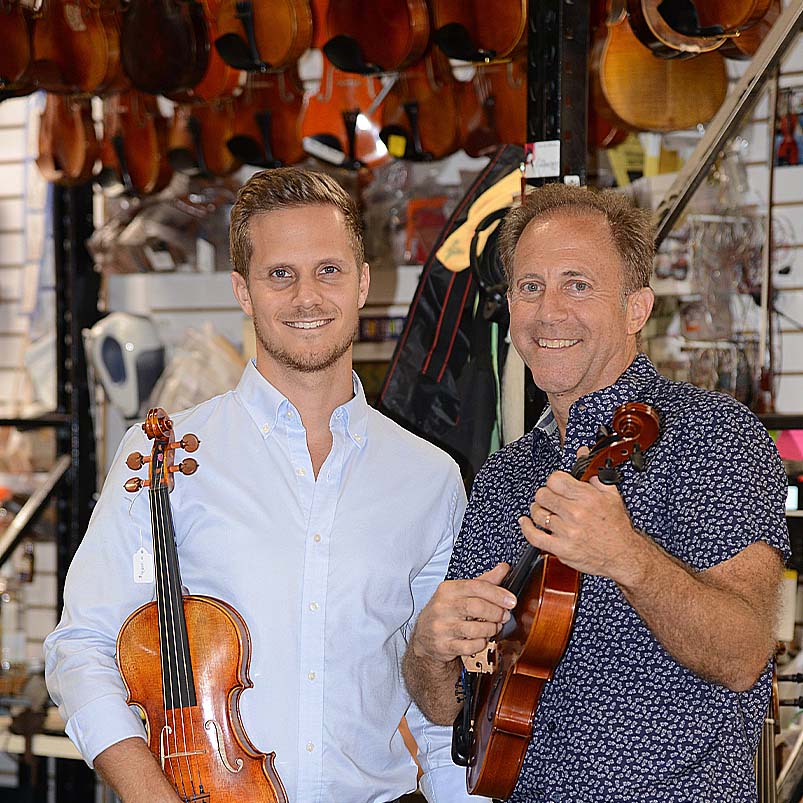 About Fiddlershop
Fiddlershop is a small family-owned business located in South Florida. Since 2012 we have been serving the string community with quality instruments and accessories. We believe that music and instruments should be accessible to everyone at a price they can afford.