Forte3D™ is using new technology in combination with the timeless art of acoustic instruments to create the next step in classical music.
The international patent-pending design uses novel physics to allow the tops of the cellos to act more like the cone of a speaker. Instead of using a rigid arched shape akin to traditional cellos, the tops use tensile strength to support the bridge, more like the surface of a trampoline. The unique hybrid design incorporates two flat CNC-cut pieces of carbon fiber serving as the top and back of the instrument. This entirely new design allows the vibrations and sound to travel more freely through the instrument to emit a robust, yet polished sound.
Constructing an instrument out of carbon fiber using traditional methods is tremendously expensive and labor-intensive and tends to sound overly harsh and brittle. Forte3D™'s original design creates a profoundly resonant, dynamic sound box, eliminating these characteristics.
As the ribs of the instruments are 3D-printed, they have a softer surface, which absorbs these unpleasant frequencies to produce a sweeter and more beautiful natural sound while also possessing the ability to roar over an orchestra when coaxed.
Cello Specifications
Top and Back Plate: Concave Carbon Fiber Panel
Ribs, neck, scroll: 3D Printed
Fingerboard: Ebony
Pegs: Wittner finetune pegs
Bridge: Hand-carved professional-level bridge from Teller
Strings: Maker's choice, normally D'Addario Helicore, but subject to change.
Adjustable Neck Projection
Forte3D™ recognized the opportunity for offering cellists a customizable instrument that still produces the same beautiful music. Never before has it been possible for a cellist to adjust the height of their strings without the expensive help of a luthier to cut a new bridge. All you have to do is completely lower the string tension, turn the screw, and your strings are now at the desired height. Each cello is shipped with an Allen wrench for ultimate convenience.
What's Included:
Forte3D™ Carbon Fiber 3D Printed Cello
Quality Cello Gig Bag
Wolf Tone Eliminator
Allen Wrench
About Forte3D™ Cellos
Created by Alfred Goodrich and Elijah Lee, Forte3D™ was started to bridge the disparity gap between the price and quality of mass-produced instruments and those that are hand-crafted by a luthier. Using new methods and designs, we aspire to give everyone access to beautiful-sounding, affordable, quality instruments.
By redefining traditional design, pricing, and perception, we aspire to reshape the industry and culture surrounding musical instruments. Everything we've been developing as a part of Forte3D™ - the materials, CAD, and the very idea of manufacturing instruments that can compete with handmade ones—has been mold-breaking.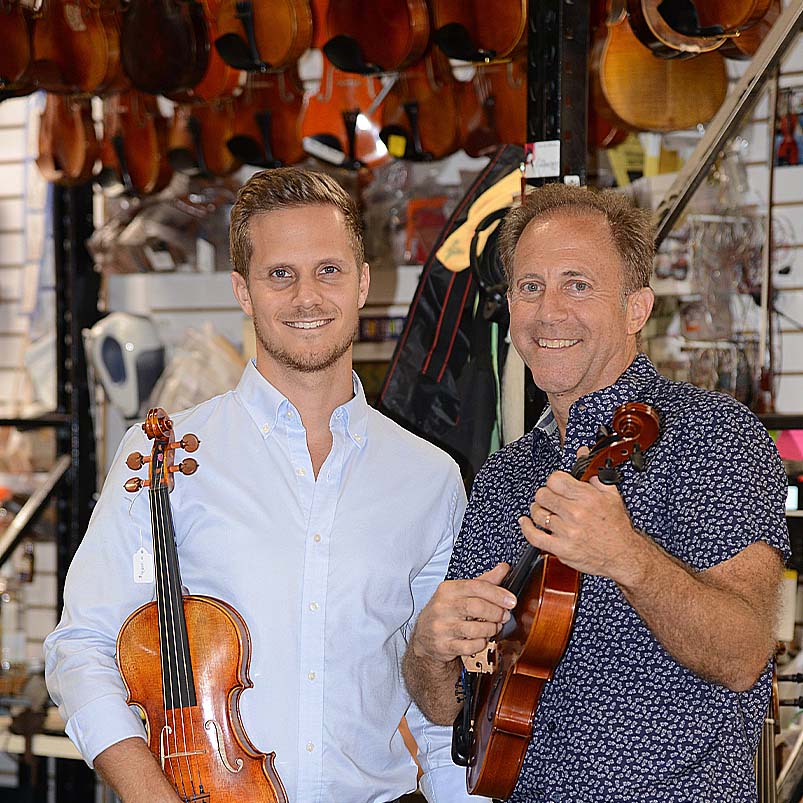 About Fiddlershop
Fiddlershop is a small family-owned business located in South Florida. Since 2012 we have been serving the string community with quality instruments and accessories. We believe that music and instruments should be accessible to everyone at a price they can afford.