Wireless amplification made simple
Go wireless with the new Fiddlerman 
FWS-10 
Wireless Instrument Transmitter/ Receiver System and say goodbye to your tangled up instrument cables. This system allows for ultra-fast and dependable audio transmission between your electric violin / violin pickup and your amplifier, without any tone loss.
Easy to use violin wireless system
Low latency for accurate performance
Re-chargeable batteries with a standard USB cable, lasts over 5hrs!
Great for strolling musicians
Take your busking to the next level
Move around on stage without any fear of running out of cable
Replace any 1/4" cable with the FWS-10
Plug and play technology
This wireless audio system is designed with usability and simplicity in mind featuring plug and play technology. Simply pair the devices, connect the Transmitter to your violin (1/4" jack), connect the Receiver to your amplifier, and PLAY. 
Specifications

The Wireless Instrument System consists of two parts: the Transmitter and the Receiver, which use the 5.8GHz frequency.
Suitable for violin, guitar, bass and all instruments with a 6.35mm (¼") audio jack. 

Works with passive or active pickups

Connect wirelessly from instrument to preamp, interfaces, amplifiers, tuners, mixer boards, DI-boxes, and more

Four built-in channels to avoid interference.

Each receiver can only accept audio from one transmitter at a time

Delay time less than 5.6 ms.

Mute function for quiet tuning

Transmitter and Receiver have large capacity built-in lithium batteries.

Multi way charging mode (recharge the transmitter 2x fully from the receiver magnetic port)

Wireless distance: Guaranteed 20 meters (unobstructed) - can reach up to 100 meters.
Included in the box
Fiddlerman Instrument Transmitter
Fiddlerman Instrument Receiver
USB charging cable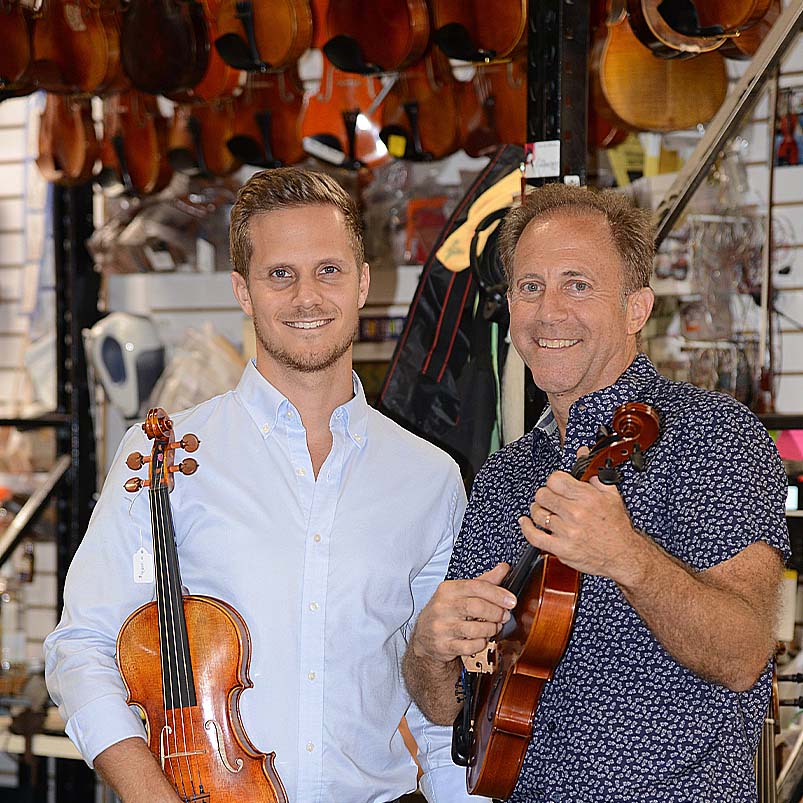 About Fiddlershop
Fiddlershop is a small family-owned business located in South Florida. Since 2012 we have been serving the string community with quality instruments and accessories. We believe that music and instruments should be accessible to everyone at a price they can afford.